7 simple steps to take your app in the featured list of the App Store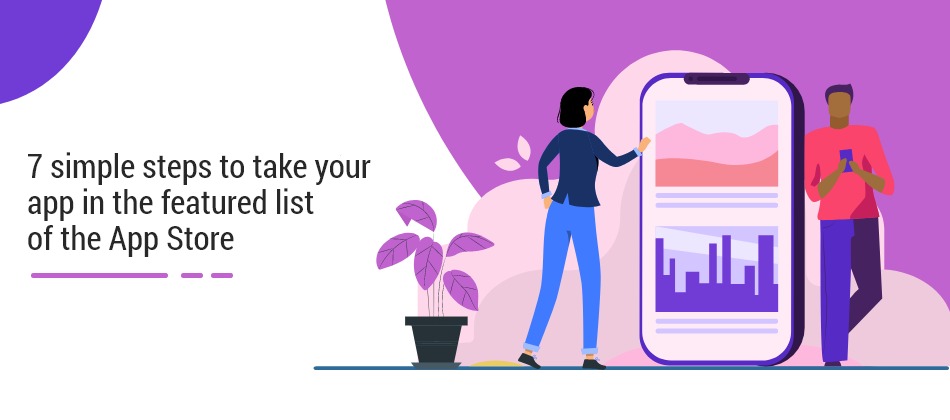 Our first mobile app got featured in-app store within a week and got 3 lakh downloads how did this happen? Was this luck? Maybe, but there is more to it and using some t steps you can your app in the featured section of the app or Google Play Store.
So what are these steps? This blog from B2C Info Solutions the perfect place to hire iOS or Android App Developer brings to you the same key tips prepared by our experts. Without further delay, let's dive into it.
Pay very detailed attention to User Experience- Look Apple is a design-oriented company from head to toe. In this context by design, we don't mean the visual appearance, we are talking about the entire user experience. This means that you have to give detailed attention to what users will go through the app. All the senses have to be beautifully crafted and their experience to be seamless. Let's break it down to prove a clear idea about this.
A. Visual
Check the latest iOS or Android version and make your app fits in- Is it colorful? Is it meeting your business requirements? How much better do you want it?
Keep it Clean- To avoid clutter; you must keep your graphical elements to the minimum. Too many graphics can create confusion in the minds of users. So keep it simple and clean.
Follow the Trend- Just check the featured apps which are of similar genre that you are going to curate. This will help you keep your designs and content up to the mark.
Keep Your Touch- Don't forget to give your Personal touch, put it over there
B. Auditive
When it comes to the sound part here are some questions that you must take care of:
What do you want my users to do when they hear my app's Sound?- Sound is a powerful tool that brings another dimension to your app. It brings to life and reality. So make sure you choose the right sound for your app.
C. Interactive
Keep your Bugs Minimum- There is more turn off than having a crash and big bug.
Keep your App Simple-Steve jobs believed in keeping your products as users will not require any instruction manual. So before integrating any feature do ask yourself how can make this easier for the users as in the end they would be who would determine the success or failure of the app.
Keep your App with intuitive- Usersare well familiar with android and iOS interfaces so make sure you don't change it! You can play with it but follow all the latest guidelines given by the platforms.
Launch the app for the App Store- Everybody is well familiar with the expression that "only on App store" it creates a buzz in the minds of your target audience so make your app on every app store.
Have at least Hundreds of downloads after few days of its launch- Having a decent number of downloads in the first few days means that your app will quickly advance in the charts. Thus, good marketing and successful app launch are essential.
Choose the launch day effectively- There is a big debate regarding the best day to launch your app. Some might consider day Monday as the best but just focus on promotion and marketing strategies and you will get the desired results.
Create App for all the latest versions and devices- With technology changing so drastically make sure your app is viable to the platforms and all the devices. Doing this will help you to get more downloads.
Get covered by as many publications as possible- Just placing your app on the store will not make your app noticed or download the app. Make sure the launch program is well covered by all the latest publications.
Have a connection in major companies- Personally getting in touch with an Apple or Samsung editor is the best way to make your app more visible. Networking is important so keep in touch with them and attend to all the latest tech events.
Wrapping Up
We hope these tips will help you to reach the top featured list on the app store. However, if there is any tip that we forget to add then you can suggest us in the comment section below.
If you have any related queries then feel free to connect with our experts at info@b2cinfosolutions.