A Comprehensive Guide for developing an on-demand service App like Matic and Quick Maid in the Middle East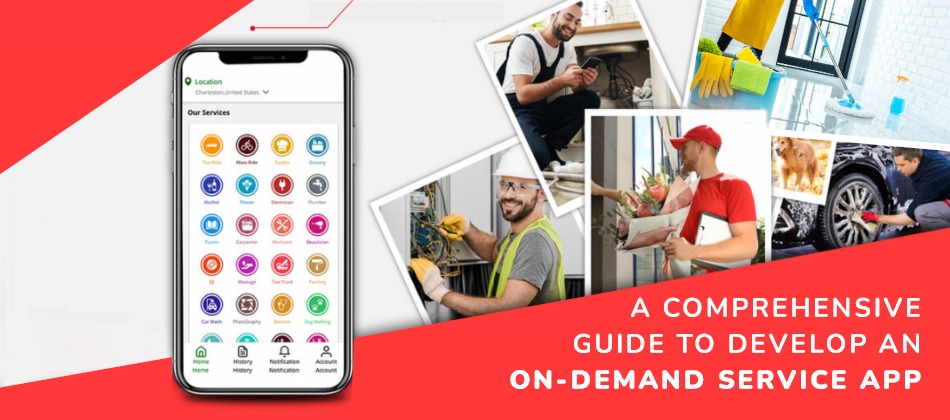 A Complete Guide for developing an on-demand Services App like Matic and Quick Maid and Quick Maid in the Middle East
The on-demand app concept is nothing new to the technology providers and customers as well. Everything is available with just one tap of your smartphone. Mobile technology has completed transformed our comfort level and daily lives. From booking a saloon appointment, hiring a carpenter, hiring a plumber everything can be done with this next-generation technology. The growing requirements for everything and a wide range of home appliances like air conditioners, ovens, refrigerators, etc. require equally professional services to meet the rising demands of customers.
On-demand App Solutions like MATIC and Quick Maid had clearly filled the gap and had developed into on-demand Competitive Markets. Not just the end-users have shown interest in the segment but also entrepreneurs searching for customers for central-business income.
The on-demand service Concept is a fully-featured all-in-one platform where customers can hire sofa designers, carpenters, painters, saloon services, bartenders, home cookers, etc. The rivalry created by the home industry for itself has led a number of businesspeople to become involved in the booming on-demand market. To help you understand more about working, features, and the exact cost to develop an App like Matic and Quick Maid and Quick Maid, this blog of the leading On-demand app development Company i.e. B2C info Solutions will help with every aspect of the booming on-demand service app in the Middle East.
How does App like Matic and Quick Maid and Quick Maid works?
It is sometimes hard to find professionals that are worth customer's trust. Carpenter, plumber, Architect well the on-demand app solutions have the answer to all of that. Since the platform has the entire verified professional it also gives people to find some part-time work as well.
The app operates in two ways:
Customer End
The customers can use the app for in-house professional services
They can download the app anytime from the Google Play Store or App Store and select the same base on their services.
Once they select a service a pop- appears that requires all the information of the customers and based on requirement it also offers related packages.
he users can check the profile of their service providers and analyze.
Customers are provided with payment details followed by reviews and feedbacks.
Service Provider
If someone wants to work or get registered on the platform then he/she needs to undergo intensive training or certifications.
When a customer selects a service then a notification will be sent to the service provider and it all depends on them whether they want to reject or accept it.
If the service provider accepts the service then both the customer and service provider will get a notification about the same.
What are some key features in an on-demand service App like Matic and Quick Maid and Quick Maid?
There are various features that need to be incorporated into the app.
For Customers
Registration or login
Social Media Integration
Data Confidentiality and privacy
User-friendly UI/UX Interface
Advanced Search Filter
Multiple Payment Options
Add details of local vendors
In-app local vendors
Payment History
For vendors
Easy Login/ Registration
In-App chat options with customers
Add hourly, fixed, or packaged based quotations
Set availability and operation time
Respond to customers reviews and ratings
GPS Locations
For Admin Panel
Complete control for admin panel
View local vendors and locations
Advanced CRM System
Backup and restore facility
Cloud Hosting and Storage
Global Access
Sales Analytics
Notification Control
Price and Subscription Management
What are the benefits of developing an on-demand service App like Matic and Quick Maid and Quick Maid in the Middle East?
On-demand Services like MATIC and Quick Maid has a wide scope in middle-east. Amidst this pandemic, there is the exceptional rise of on-demand services in the Middle-east. There are lots of competitors of MATIC and Quick Maid in the Middle East like Urban Clap, HELPING, HELPBIT, and MR USTA. And every venture is successful in the region and the demand for many on-demand services. Here are some benefits suggested by our team of experts that will drive the development of a clone on-demand service App like Matic and Quick Maid and Quick in the Middle East.
Time-saving- This crucial feature and implementation of on-demand service let users save time and money by eliminating the traditional process for online service providers and assigning tasks to unverified professionals. The service providers are fully trained and undergo certain tests before they get registered on the platform.
User-friendly- Seamless UI/UX design is designed to provide a supreme user experience. The app helps its users to find services effortlessly. Customers can their service needs and determine from the available drop-down choices.
Multiple Online Payments- Customers can choose the payment options as the app comes with multiple options like debit card, credit card. This helps users to maintain track of payments and prevents the hassle of paying via cash.
Safe and Secure- The app is designed with countless security trials to prevent the hacks that attempt don't hinder efficiency. The service providers cannot change contact information, review, and ratings.
Sponsored Profiles on the app- Professional and service providers can post their best packages through sponsored membership; it means more business and increased profits.
How much does it exactly cost to develop an on-demand service App like Matic and Quick Maid and Quick Maid in the Middle- East?
There are several features that come into consideration to an on-demand service App like Matic and Quick Maid and Quick Maid in Middle East effective. Based on OS Platform a rough estimate can be from$20,000 to$50,000. To give a reliable quotation we need to review your design, functionality, and other additional features.
Apps like MATIC and Quick Maid offers you the ability to instantly get the services at your place. B2C Info Solutions offers on-demand app creation solutions to consumer providers worldwide. We will convert your ideas and provide you applications for iOS and Android mobile apps like MATIC, Quick Maid, Housejoy, etc.
Conclusion
People love to access apps like these as they help them to find the desired service and search for the right team of individuals for a job. Searching for the best team of app developers in the Middle East?
Think B2C Info Solutions
Get in touch with our experts at info@b2cinfosolutions.com