Everything you need to know about Staff Augmentation 2.0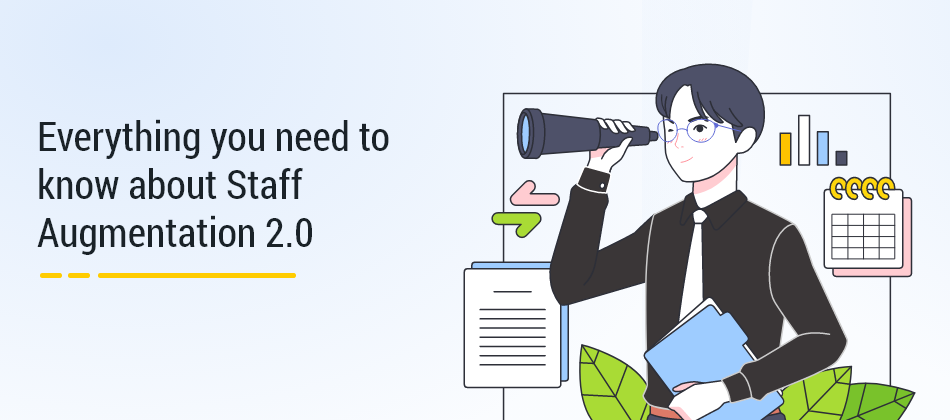 Staff Augmentation 2.0
Staff Augmentation is a revolutionary yet trending concept for startups or enterprises across the globe. Now with Staff Augmentation, they are able to save a lot of money, deliver the projects faster, and able to generate more revenues and profits.
With quick changes in time, the next version of Staff Augmentation is slowly, but gradually becoming popular among businesses, seeking a talented group of individuals for their projects.
In this blog of B2C Info Solutions, we will share what exactly is Staff Augmentation 2.0, its benefits, USPs, and why your business requires it?
Staff Augmentation: Why does it work?
The concept of Staff Augmentation has its origin in the 1980s, when a fast-growing enterprise wanted hard-working, talented employees, without taking much burden of technical hurdles.
Staff Augmentation is basically an outsourcing technique, especially when we are talking about the IT sector, where finding the right tech team still remains the biggest challenge.
With the changing trend, Staff Augmentation requires upgrades, and reform because of the kind of challenges it is facing right now.
Main Challenges of Staff Augmentation Model
The pandemic exposed the vulnerabilities and challenges of the staff augmentation work model and this has given birth to the concept of the Staff Augmentation 2.0 Model.
Before we share vital information regarding Staff Augmentation 2.0, let's discuss its challenges.
Talent War
In IT Industry, the big enterprises lure employees with full benefits, and great packages and convince them to join on a full-time role. This certainly means that the organizations that are dependent on "only" staff augmentation get average employees which hamper their productivity in long run. Hence for all the top-tier talent, they are forced to hire on a full-time basis, which affects their project's quality.
Cultural Gap
Another Major that enterprises fail in the staff augmentation model is the cultural gap, along with time gap differences. For an instance, a Company in Australia hires a temporary staff via staff Augmentation from Europe, and then there would be a cultural gap between hired employees and the management expectations, and it takes time to fill the gap. In some cases, there is a major time difference as well, impacting the overall productivity for long-run, difficult projects.
Staff Augmentation 2.0: Full time equivalent (FTE) Model
Under Staff Augmentation 2.0, the businesses are opting for the full-time Equivalent, for top hiring talent whenever required.
Now, the FTE model includes the entire practical and benefits properties of the Original Staff Augmentation model but refines the terms and conditions to ensure that the challenges and loopholes are removed.
Staff Augmentation 2.0 is based on the full-time equivalent model, wherein the talented are hired for long-term projects and are given benefits and salaries on par with Full-time Employees.
Perks of Staff Augmentation 2.0
Dedication & Commitment
While the original work model of staff Augmentation focused on short-term temporary workers, full-time equivalent-based Staff Augmentation 2.0 focuses on engaging and hiring the employees for a longer period of time, almost like full-time employees, but without spending a fortune.
Compatible Hiring
The hiring process for Staff Augmentation 2.0 is more-in depth and calculated, wherein cultural aspects and language issues are taken care of, and accordingly, the hiring is executed.
IT Staff Augmentation 1.0 was about only hiring a short-term, less expensive workforce, staff augmentation 2,0 is about hiring long-term, sustainable and experienced developers who are aware of the culture and way of thinking of the clients for better results.
Advanced HR platforms
Staff Augmentation 2.0 deploys advanced HR Tech platforms for hiring the best employees and contractors for the projects, ensuring that only the right candidate is hired for the right job and at that too right time.
Along with technical skills, the recruitment platforms analyze the logical, and social skills of the employees and match them with the specific requirements of the clients, to provide the best talent to complete their project within deliverables.
Since the full-time equivalent model is offered, the employees too are more connected, more engaged, and more willing to give their best shot at work.
Wrapping up
Staff Augmentation 1.0 is here to stay and it won't disappear it would be a shorter period of time but it would remain a cost-effective model.
Meanwhile, Staff Augmentation 2.0 will more or less focus on long-term projects, where employees need to be connected, more engaged, and culturally compatible for ensuring perfect results.
To know more about the model reach out to our experts at info@b2cinfosolutions.com.