How IoT is changing the complexion of the Healthcare Sector?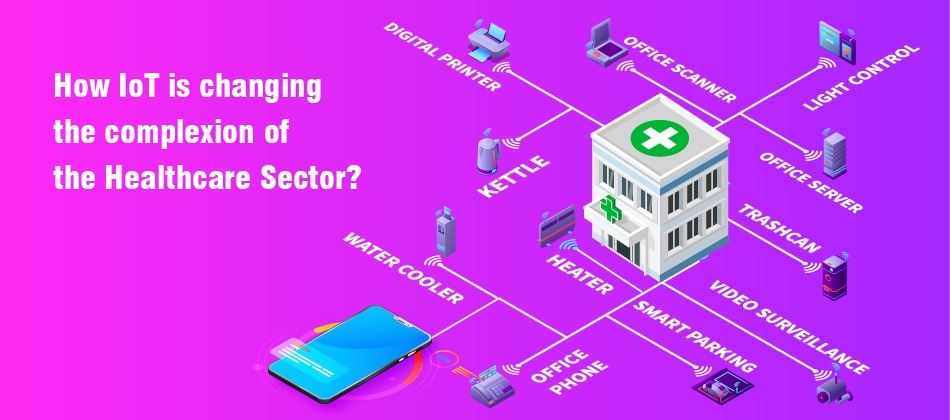 How IoT transforming the Healthcare Sector?
When it comes to healthcare we all prompt and personal care and as a patient, we want premium healthcare services at affordable prices. There is no wrong in saying that we are inclining towards digital solutions to ease the burden of our daily life, especially in Healthcare Domain.
The Internet of things is driving multiple trends and inspiring new technologies and practices and workflows featuring efficiency and more precise diagnostic recommendations.
Healthcare App Development especially IoT integrated can improve things drastically in the healthcare sector. From improved machine control to virtual assistance, IoT in healthcare is the future. It can save several lives by diagnosing the diseases at an early stage as well as finding the right treatment and cure for it.
Now the technology is well accepted by all technology companies and Healthcare service providers of any vertical be, it a hospital, nursing home, or diagnostic labs. Now there is hardly anyone that questions how this technology works and every Healthcare App Development Company is aiming to provide the best possible digital solutions to their clients.
Just like every other technology, it has its own merits and demerits associated. IoT in healthcare has its own challenges and limitations that can cause delays in the process. Security IoT healthcare solutions are also a major concern.
The challenges and limitations can be overpowered with the right strategy and growth of IoT in healthcare and witness the current growth of IoT in healthcare we can say there would not be any major concerns in near future.
IoT is still a new term for many startups and business enterprises so this blog aims to provide you every crucial detail regarding IoT so that you can get a brief understanding regarding the same.
Where does IoT fit in Healthcare Sector?
We all must have witnessed that patients don't get their medical attention required on time and this can affect their health long run. This delay is caused due to numerous reasons like Unavailable rooms or doctors, traffic road, delay in diagnosis of diseases.
Most people are not familiar with the disease that they are suffering from. To identify signs, you need to visit a consultant. If heart rate, blood pressure, sugar levels are regularly monitored then the upcoming serious health issues can be prevented.
Also sometimes doctors pay heavy worth on a simple stomach ache this could be solved if patients and doctors will connect virtually.
IoMT is a series of network devices that collect data in real-time. It is one of the key healthcare applications of IoT in healthcare which has the potential to solve all the major medical issues. A recent study conducted reveals that the market was $22.6 billion in 2016 and it is expected to reach $22.5 billion by the end of this year. It will provide more personalized care and individual-related medical complications.
Not only IoMT will be able to prevent upcoming diseases but it has the potential to cure already occurring health problems. The technology has made wearables so convenient that patients can monitor the lifestyle- ailments on their without visiting the doctors. Some renowned medical devices used in this are Fitbit, Samsung medical, etc.
What are the merits of IoT in Healthcare?
IoT is assisting hospitals and patients to interact more effectively than beyond our expectations. While population growth is not helping to control the increased illness, old and other health issues but the introduction of IoT may be able to do it. An experienced IoT app development Company in Bangalore can help healthcare enterprises to lower down the cost of treatments. Here are some key benefits of the Internet of Things given by our team of expert professionals.
# Regular Monitoring and Reporting
IoT in the healthcare industry enables doctors and healthcare service providers to monitor early signs of ailment that can prevent life-threatening medical conditions like Heart failure, asthma, cardiac arrest, etc. The technology has assisted doctors to attend multiple patients in a matter of minutes. As far as the medical history and reports of the patients are concerned it can be stored on the cloud and can be easily accessed whenever it is required.
#Easy Connectivity and Affordability
The internet of things in healthcare allows better connection and smooth usage of the latest technology for easy data sharing and connection. With features like Bluetooth, WIFI tracking of diseases at early stages becomes easy and less time taking. This reduces the average cost of treatment to be lowered down and allowing patients to get treated more conveniently.
#Real-time Tracking and Alerts
Just imagine how many precious lives can be saved when an alert is sent to the patients. IoT has made all this possible. With the help of a smart device, all the important medical information can be recorded in real-time and can be sent to the doctor. In case of any emergency, the doctor will be informed immediately and can provide the patient the right consultation.
Uses of IoT in Healthcare
The internet of Things is being used in various branches of the healthcare domain. Right from monitoring patients virtually to assisting them, the applications are very vast and diverse. Here are some benefits of IoT in healthcare.
Finishing the wait time for serious patients
Often patient's condition gets worsens if he/she doesn't get treatment or room in a hospital. With IoT healthcare devices, the waiting time can be reduced by more than 50%. When it comes to occupancy, IoT can track all the rooms and find the empty in a quick succession of time.
Tracking of employees and patients
A hospital has a huge building so it is quite difficult to track where doctors and employees at a particular moment the same goes for the patients as well. With IoT-assisted devices, the tracking becomes very easy.
Drug Management
Medicines are now being monitored by IoT devices to keep a track of their dosage and its side effects. It can also give patients a reminder to take medicines on time and in the right amount. If a patient takes an overdose then they will be alert immediately.
Diagnosis of Chronic Diseases
The Internet of Things has the capability to identify any chronic disease that a patient is suffering from that too at an early stage. The patient just needs to enter his symptoms and needs to match them with the already existing device to match the disease.
Wearable devices are great trackers of heartbeat, sugar levels, and Blood pressure. Healthcare Solutions from a professional IoT App Development Company in Bangalore can make patients aware of their current medical conditions.
What is the future of IoT in Healthcare?
IoT unfolds potential not just in Healthcare. Many IoT healthcare companies are working on new ways to use this technology to improve quality care in the medical world. A recent study revealed, IoT industry is expected to grow to $8.9 trillion by the end of this year.
Final Words
It is just a matter of time when IoT will rule the medical field and will be treating patients in less time and that too at affordable prices. Both Google and Apple are currently working to make this technology a success.
Team B2C Info Solutions has proved time and again with its impeccable IoT solutions for mobile and web. Connect with our experts today to know more at info@b2cinfosolutions.com.