How Will Android 12 Features Impact Your Mobile Application?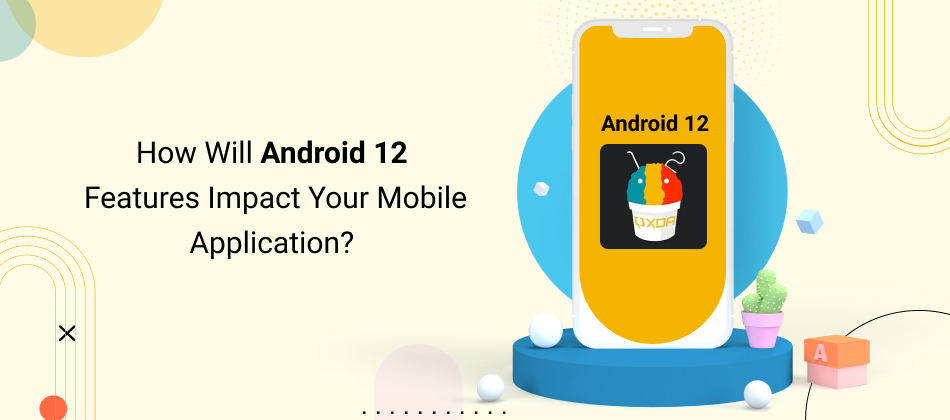 Android 12 is finally here, and ready to set an example of unconventional creation. From its first appearance to in-depth features, Google this time has not left anything untweaked to bring a personalized touch to Android.
Available as a public beta for now, the Android 12 will revolutionize the entire field of Android Mobile Application Development.
User appealed features, no more privacy concerns, outperforming battery & software performance with layers of irresistible design themes. The Android 12 brings a whole new level of excitement not just for developers, but for stakeholders, app owners, businessmen, and every other person sitting behind the other side of the coin.
So, without wasting any more time, let's dive straight into the highlights of Android 12.
Material You - An Ergonomically Designed UI
The most primary change you will get to see with Android 12 is an entirely new concept of the user interface. This redesign UI is being called 'Material You' by Google. The name surmises the promise Google made last year of making the Android as personal as possible.
The punch of gradient colors, cute soft edge buttons, smoother motions, and many other changes explain how creatively the software giant analysed user interaction with Android.
The list of features is endless, but let's check out the most significant ones that would affect the process of mobile application development in the future coming by.
Faster Motions & Smoother Animations
Besides the attractively designed UI elements in round shape, the all-new Android 12 comes with a responsive & dynamic interface. Thanks to the new animation engine Google has integrated, that improves the CPU usage by 22% in multiple instances.
App Impact: This will also improve the overall performance of an android device and apps in it.
Improved Notifications with Redefined Tray
Android 12's notification panel is redesigned in terms of aesthetics, functionality, and usability. The rounded corners at the top of the panel are not just larger, but also colorful. Google's consistent efforts in freshening up the animations & transitions are applaudable.
App Impact: New notification tiles will be snappier & take less than a second in redirecting the user to its dedicated application.
Single-Handed Mode
Using a big-screen smartphone with one hand is tiring. But with Android 12's easy one-handed mode, it's not an issue anymore.
To activate the feature, one can simply go to Settings > System > Gestures > One-Handed Mode and slide the switch to ON. Once the mode is activated, you swipe down anywhere at the bottom of the display, and the aspect ratio will be crunched to your palm size.
App Impact: This will positively impact the user retention by allowing them to operate the applications tirelessly.
New Age Emoticons/Emojis
With Android 12, your device won't be needed to wait for an OS update to reach out to the new internet lingo. Google is making it easier for every device to receive new-age emojis by decoupling them from Android system updates.
App Impact: More fun can be seen here for Chatting, Socializing & Dating applications.
Widgets Renovation
Widgets have also been worked upon. They are redesigned to more rounded ones this time. Due to iOS 14 flaunting widgets last year, Android 12 was the expected version that'll bring a change in this area.
Google's colour extraction system uses a clustering algorithm that determines the colour of your widgets, notification panel, and the rest of the UI matching the hue of your wallpaper.
App Impact: Applications offering Sports, Meditation and Grocery features, can leverage their users a much better experience with the easy functionality of new widgets. User won't be needing to open the app again & again and can be entertained easily via widgets.
Scrolling Screenshot
Accessibility & convenience was the first two pillars kept in mind while developing Android 12 - Says Google. After causing disappointment by Android 11, the upcoming droid is spotted to capture an extended screenshot offering users an option to crop & edit it as well.
App Impact: Social Media & Ecommerce app users will now be able to share content effortlessly with each other.
Rich Content Sharing
A new API included in Android 12 will let users enjoy better control over rich media insertion through keyboard, clipboard & easy drag/drop option. More formats including - "Audio files, plain & style texted mark-up, videos, gifs, images, etc." will speed up the process of sharing media content among users.
App Impact: Digital Marketing, Business Driven, and Banking Applications will be benefitted immensely. With this, user won't feel the requirement to install bundle of other file sharing applications in device.
AVIF Image Support
The days of JPEG can be counted on fingertips with the new AVIF image format coming along Android 12. Improved image quality over JPEG without paying the penalty of larger file sizes, the new image format operates over the open-source video codec AV1.
App Impact: Demand for Photography, and Camera gating applications may witness a surge with this new image format coming in usage.
Smoother Audio Transitions
Take this as if you are viewing a video on social media, and then you need to switch to your phonebook or any other non-media application, then the Android 12 helps your social media app loses audio focus by fading it out, and transition you to your desired app quite easily. This will offer quite opulent, smooth, and feel oddly satisfying.
App Impact: Better optimization of Music Applications like Spotify can be done with this new characteristic.
Better Assistant
Calling your Google Assistant with the new Android 12 has become easier. A simple press on the power button for 0.5 seconds can help you summon it. Google has also promised for the assistant to be more helpful, smarter, and responsive.
App Impact: Cab booking, E-Scooter, and Food Delivery apps with speech recognition mode will notice a more smoother experience due to optimization of assistant in operating system.
Invulnerable Privacy with Private Computer Core
Google already repeated the point of privacy being at the forefront this year, and yes! That includes Android 12 very well.
A privacy dashboard affixed within, show you a timeline of when apps are trying to access your device's camera, microphone, location, or any other data.
The dashboard will indicate multiple colors showing which app of your phone is accessing or had accessed the data. However, the smarter Android 12 comes with more active security, enabling you to hide your precise location and share an approximate one only.
How Private Computer Core Works?
A dedicated space called 'Private Computer Core' comes within Android 12, and is helpful enough to keep your information private for several AI-driven features, like Smart Reply, Live Caption, Now Playing, etc.
Having a separate partition, similar to ones used for the password or biometric data, will make it easier for the operating system to keep it safe while still keeping it available for the system-level functions.
Anti-Tracking Features
This new gimmick of Android 12 might disappoint a bracket of audience. The feature is not yet confirmed, but Google is trying to balance privacy with an ad-supported system.
Unlike Apple, Google's version may not require developers to ask permission from users to track their data.
The approach that Google could take, may be similar to its Chrome Web Browser. After phasing out all the third-party cookies from it, the browser now uses an alternative to target audience, yet not so precisely.
In the same vein, advertisers and app developers will only be able to collect data based on groups of people with resembling interests, but not individuals.
Restricted Networking Mode
Through Android 12, Google is also working to activate the 'Restricted Networking Mode'. Once this scarily titled mode is on, only applications that hold permission to CONNECT_RESTRICTED_NETWORKS will be allowed to use the network.
Provisionally this permission will be provided to only in-built & OEM (Original Equipment Manufacturer) applications, and the rest of the apps will be blocked to use the network.
This doesn't mean that your custom build application won't be able to send push notifications. It can still do that by using the Firebase Cloud Messaging because it is a privileged Google Play Services app, but sending or receiving data in the background by your custom app will not be acceptable to Android 12.
Enhanced IoT Apps' Experience with Ultra-Wideband API
After Samsung, Google is all set to incorporate the Ultra-Wideband (UWB) technology to facilitate indoor positioned smart home devices and high-speed peer-to-peer data transmission.
To dominate this technology, Google added an API to AOSP to support UWB. From this point, a broad spectrum will be accessible by IoT applications to showcase an optimum level of performance.
Android 12 is nearly out for action! Don't miss out on the opportunity by getting left behind
The time between a new OS launched and when companies start using it for their clients is wide. This leads the client to face extreme competition, poor results, and more investment in marketing.
What to do then?
The yearly skilled team of Android developers at B2C Info Solutions has already started scrutinizing Android 12. They are continuously playing around with the developer preview and experimenting with it out on modern world applications.
This means you can step ahead of your competition and relax for longer by bringing up your application development project to our tables.
Think less, and do more. Grab the benefit of the first-mover advantage. Discuss your project now and have an estimate of your android app development cost.