How is Digital Engineering transforming the Manufacturing Business?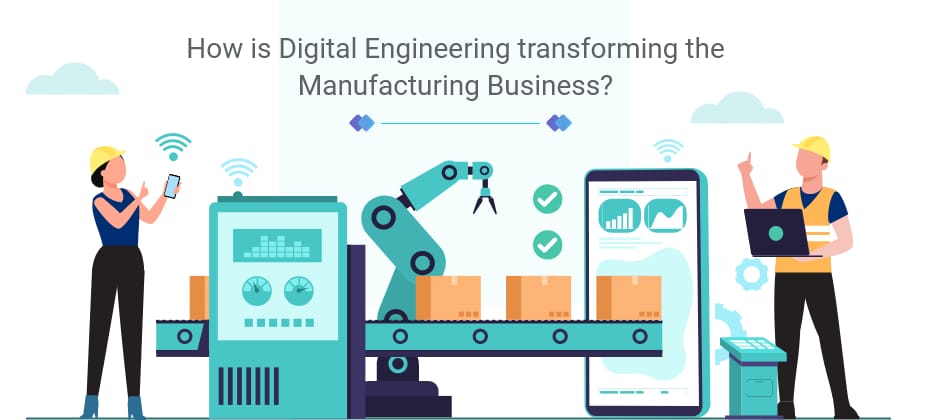 Digital Engineering changing the complexion of Manufacturing Business
The manufacturing Industry makes a huge share in ever growing $2.17 trillion economy of the U.S. The sector has witnessed lot of ups and down over two decades now. But the innovation in technology has started to transform the face of manufacturing business in terms of how products gets conceptualized, manufactured and distributed. Technology innovation promises a great future for manufacturing units, a future full of smart and connected devices that helps to increase productivity and save cost savings with sustainable growth.
According to a recent study, USA will surpass china as a cohesive manufacturing unit by the end of 2021. India's manufacturing has the true potential to reach $1 trillion by 2025 by the following a "make in India".
Manufacturing units are leveraging the power of all the latest technologies such as sophisticated sensors; cloud computing and Artificial Intelligence when combined with together with physical and virtual world to empower people. Below down we have explained that how the technologies changed the work efficiency and output of the manufacturing business.
Here are some technologies which are changing the complexion of Manufacturing Units.
Internet of Things (IoT)- IoT helps manufacturers to excel the process transformation in terms of reduction in resource consumption, low production costs, and effective control over supply chain management. Some of big names that leveraging the power of advanced technologies include AW, Bosch and Cisco.
Cloud Computing- Cloud Computing has helped many manufacturers to go beyond cost saving and increase efficiency, they can leverage the power of the cloud to add versatility and beat the competition with ease.
Augmented Reality (AR)- AR enables business owners to solve problems that arise on daily basis through real-time monitoring of employee tasks and prevent errors through effective training and capture data for statistical analysis.
Machine Learning- Manufacturers can integrate machine learning into their operations. The main objective behind this is detecting the glitches and gain greater insight into production processes.
Manufacturing tomorrow means using sensors, robotics and central collection of data manufacturing can get all the important information which is available across entire manufacturing supply chain and product cycles.
What does it mean to manufacturers?
Manufacturers can easily focus aspects of their business. How does it help them in doing so?
Smart manufacturing is all about enhancing output and overall performance while reducing the costs, operating costs and capital costs.
How B2C Info Solutions can help them doing that?
Team B2c info solutions is a reliable name when it comes to digital products for manufacturing units. We have helped many startups and enterprises manufacturing units to upscale their automation and working process i.e. monitoring demand and supply, taking care of employees in real-time and inventory supply management as well.
Our IoT-enabled systems, sensors and artificial intelligence solutions have helped to ease their burden so that they focus on other important things of business operations. We have the expertise and capabilities to trigger revolution in manufacturing field by launching game-changing digital solutions.
To know more the same you can connect with our experts at info@b2cinfosolutions.com.