How to design a push notification strategy to help you to increase user engagement?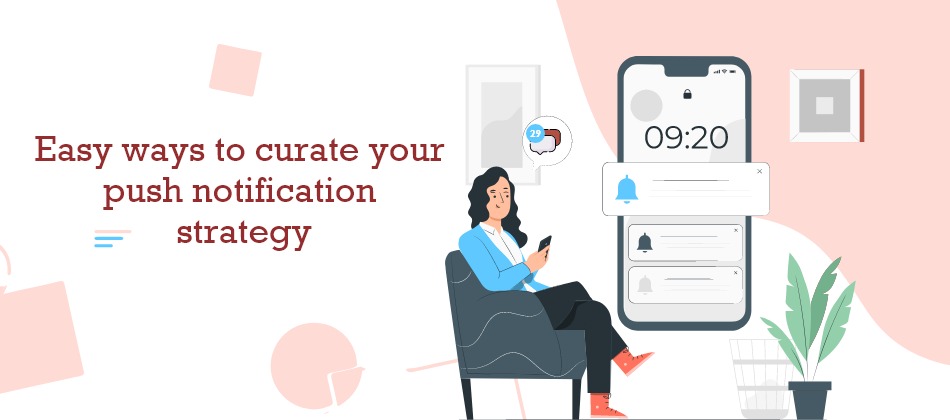 Easy ways to curate your push notification strategy
Push notifications play a very key role in helping your users to get engaged with the mobile app. When used wisely, push notifications to enhance user engagement by over 88%. Yet, the most fascinating fact is that it gives a tremendous opportunity to turn users towards your app with scalable push notifications.
According to a recent report it was found that nearly half of the app users find push notifications "annoying". These notifications ignore user goals, dismiss the context, and several other major mistakes.
But team B2C Info Solutions had crafted a blog that can help to make a decent push notifications strategy that will provide value to your users. Just carry on your reading, you would be able to learn all the fundamentals and some advanced that goes into designing an advanced push notification strategy.
So let's start it.
Why curate a better push notification strategy?
Before diving it into the strategies, let's just take a look at the primary advantages that push strategies to provide to the creators. Here you would learn how a well-crafted push notification strategy can create wonders and helps you to increase your app engagement.
Re-engage your users
A braze study has revealed that on average less than 25 percent of the users return to the app after they download it. And the number continues to decline. But push notification can help you reverse that trend.
It gives you an opportunity to interact with your users more effectively especially when they are not using the application. Your notification will pop up on their phone, making it a more effective experience. With the advent of technology they can easily hear the notifications on smart devices like watches, digital assistants,s and displays. Just for that sake take the example of Zomato, their push notifications are so catchy and eye-grabbing.
Improve your user experience
While some products always treat push notifications as a way to drive more engagement while others just rely on push as the core of experience itself. Just consider the push means to on-demand service-oriented apps like uber, zomato, ola, and swiggy and payment apps like PhonePe and PayPal. Everything users want to know is there in the notification: they don't need to tap it and go into the app to retrieve all the important information.
How to create your push notification campaign strategy?
Since you have understood the benefits now, how do you go about planning and creating notifications for your mobile app? Here are simple techniques are given by our experts which may help in crafting engaging push notifications.
#1 Identify the problem and Goal
The initial step in creating a push notification is identifying its purpose. Is there any problem that can be solved with your mobile application? Once you know the goal and problem for which the app is crafted then you would able to define your success. Like for an instance, are you noticing users are not taking actions that you want them to take, are they leaving the application? These are some key pinpoints that push notifications can help you to solve
#2. Understand the Context
To curate an effective push notification campaign you need to be at the place where users want you to be. This means you need to understand their perspective and get a clear idea of what your users want? Where they are coming from? And all the potential obstacles in their path before you design a solution. At B2C Info solutions, we make sure that our team dedicates a significant amount of time and research to understand the user's needs and motives.
#3. Create Relevant Parameters
Your push notification campaign needs to have the right message and to be delivered to the right audience as well. This will make it more relevant and effective. To make sure they are the same, you can check the key parameters in the context we described below.
User Segmentation- It means dividing users into several groups on the basis of characteristics, age, and demographics. And along with that go with trigger criteria as well, these would help you to get familiar with their likings and you can plan your notifications according to it.
Message Type-This is of utmost importance after segmenting your audience and knowing their likings you need to strategize the type of message that you will be sent to your customers. It can be informative, humorous, or gentle reminders as well.
#Step4: Activate and Collect Data
The next step is to collect data and start sending your push notifications and see how users will respond to it. We use some robust sending tools and track down results. Each tool is a bit different and is more valuable at different stages of the product lifecycle. These different tools include.
Firebase cloud messaging- This tool offers basic UI for curating messages and allowing them to send across different platforms.
Mix Panel- This is yet another good option for sending push notifications. It offers intuitive UI enabling to make campaigns and analytics tools to get familiar with grouped user activity and behavior trends.
Intercom- This tool provides some message creation (yes: titles, images) but prefers it more for its deep-dive analytics.
Wrapping up
Push Notification plays a very crucial role in getting more conversions for your business. Keep your motive, problem, and goal to create a push notification that resonates with the users. Once you had sent it, monitor all the results with analytics tools and adjust your parameters to improve results on the new data. Advanced push notifications will help you to connect with more users and see more impact on your campaign.
To Know more about push notifications you can connect with our experts at info@b2cinfosolutions.com.