IoT in the Middle East Disrupting the Digital Space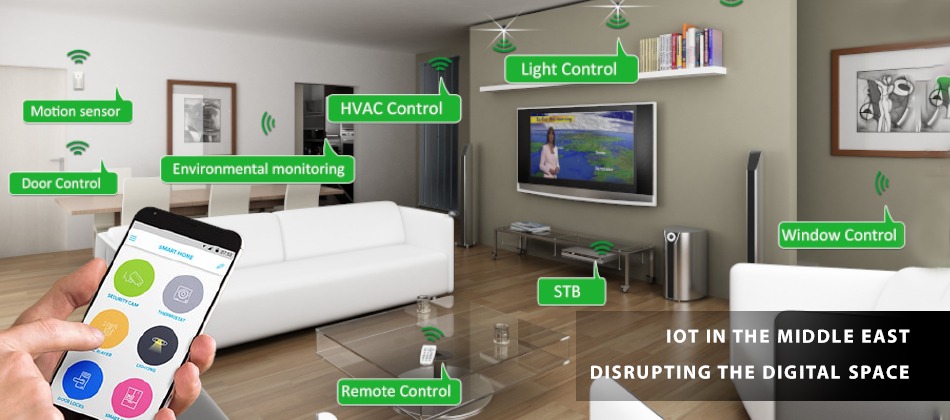 Why IoT is the future of the Middle East?
Business and enterprise owners in the Middle East are looking to adapt their businesses in the light of the digital tsunami. And undoubtedly IoT (Internet of Things) architecture is the next big technology that every enterprise should focus on.
What exactly is IoT?
Internet of Things can be explained as an ecosystem that provides information across between users via the net. One can easily connect to another user or machine with in-built sensors or objects that have been assigned a particular IP Address and transfer data.
Smart Homes are the best example of IoT App Development Services. These are reshaping the future world with automated tasks making lives easier and simpler.
How has the Middle East Embraced IoT?
With the changing trends, across the Middle East IoT is one of the crucial factors to grow your business. According to a recent study around 33% of companies were having an advanced level of digitization and this is expected to reach 77% by the end of this year.
In the Middle, IoT Application development is boosted by smart projects undertaken by the government to leverage long sustainability. With this, IoT mobile networks will also be positioned securely to connect sensors across cities, supporting several projects.
IoT can transform the way cities utilize their precious resources along with smart meters and effective data integration and can be distributed in the most efficient manner. IoT does not help in building smarter cities but it also renders the solutions for the safety of the public as well. Video monitoring systems in public also helps in tracking the number of accidents: they can be implemented on the public streets as well for safety concerns.
AI, IoT, and Human Beings
Advanced Technologies like Artificial Intelligence, IoT, Human Machine links have altered the operation of business and interaction with end customers. The Dubai strategy developed from the premium IoT app development Company.
The strategy aims for Dubai's digital wealth, encourage the participation of government departments to join the emirates smart development under IoT strategy.
The IoT Strategy for Dubai includes six strategic domains: governance, deployment, management, acceleration, monetization, and security.
IoT is now embedded in everything. From automatic cars to security concerns, it is the technology that brings human beings closer to machines. IoT has successfully managed to reduce the manual work, turning out to be the most effective digital solution.
How IoT impacted Business in the Middle East?
IoT Architecture is proving the number of connected devices that a person can access easily without exerting themselves out. Implementation of this technology, life will become more and more comfortable and simpler. Along with this, increased revenue streams and job opportunities will be created in the Middle East.
Apart from the existing government plans related to IoT in the Middle East, private and public sector companies too are actively participating in IoT Architecture development.
The most common examples of IoT examples are smart homes, utility devices, and regular gadgets that we use on daily basis.
Not only have these IoT solutions are also helping in tackling cybersecurity and safeguard online data for the users. According to a recent report, the IoT Solution market in GGC will be around $11 billion by 2025 generating revenue of more than 160 billion.
Are there any challenges with IoT commercialization in the Market?
Internet of things is a massive and complex ecosystem that requires expert professionals and an affordable budget to meet the project's ends. There are three major challenges in IoT all across the globe.
Security Concerns : Security forms are the backbone of technology. An increasing number of devices increases the chances of loopholes in the system with more security vulnerabilities. Many IoT developments work with identical or similar which magnifies the potential of any security breach in either one of the systems. The ultimate battle is between providing cost-effective solutions versus highly protected but in some cases. If your Company has a strict budget, take a Collaborative approach to deal with the security concerns.
Privacy Issues- IoT creates unique challenges to privacy, many that go beyond the current data privacy changes. This drawback comes as major challenges in consumer devices like tracking of devices for phones and even smart television. Devices such as smart television have embedded voice recognition and conservations or watch activities. Such information can lead to legal consequences and put users at the risk of legal exposure. To deal with privacy, IoT software deployed in devices must be developed with respect to individual privacy choices across a broad spectrum of activities of expectations while still rendering innovative and helpful technology.
Regulation Policies- Legal issues with IoT devices cross border flow which involves conflict between law enforcement and civil rights and legal liabilities for unintended use of personal information. Furthermore, technology is getting advanced at an alarming rate as compared to associated policy and regulatory Frameworks.
Regulatory Analysis of IoT devices is increasingly being taken care of from a general, technological, and perspective. This can prevent unfair or deceptive practices that target organizations and individuals as well.
Final Words
IoT Connects more than 300 million things in the middle east and each comes with specific requirements like their coverage area, business development, product development, and end-to-end secure communication between the things at the backend.
Even after developing a strong network between things online, it is quite a difficult task to deploy the ecosystem successfully that runs on the designed platforms without errors. Implementing IoT is an expensive affair as compared to other technologies like cloud and blockchain. Through, in the long run, IoT does not prove to be a fruitful option for employees working at the backend of the company.
To know more connect with our experts at info@b2cinfosolutions.com