Planning HIPAA Compliant video call API for Healthcare Apps? Important things that need to know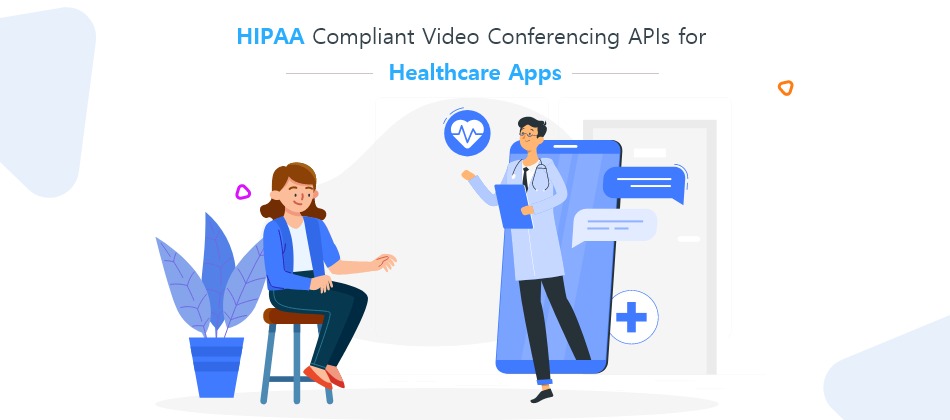 Covid-19 has flipped our lives upside down. There is not a single sector in the world that has not been affected by this deadly monster. But healthcare sector has emerged as the major helping hand in these trying times. With the introduction of new advanced technologies, healthcare is shifting towards a new digital dimension. As of now one of the major important assets of the healthcare domain is HIPAA Compliant Video Conferencing. Earlier technical experts have predicted this industrial shift which is now a prevalent factor in providing better healthcare services.
But to have a bug-free and patient-centric app solution you need to hire an expert Healthcare App Development Company. And if you are looking to gather important information regarding HIPAA Compliant healthcare apps then you must read this blog till the end.
What is HIPAA and its important aspects?
HIPAA is an acronym for the Health Insurance Probability and Accountability Act which is set for the data protection of patients. This was developed under the guidance of Mr. Bill Clinton. It ensures important information of patients such as address; contact information, medical history, and financial records are well protected. There are several rules under HIPAA that ensure patient's safety and integrity which include privacy rule, security rule, enforcement rule, and omnibus rule.
Healthcare Companies and brands must have a proper network or process which is up to HIPAA Compliance. Any venture in the healthcare sector that has to access patient's information needs to follow HIPAA Compliance too.
A Business Associate Agreement between BA (Between Associate) is signed before setting up HIPPA compliant video consultation for telemedicine. The main aim is to develop external software having robust features such as video & audio calling, instant messaging offering healthcare services. This is where the HIPAA solution has acted as a helping hand to people during this pandemic state.
Difference between HIPAA Compliant solution and Customized White Label Solution
In simple words, White LabeL Solution is basically a template solution whereas HIPAA is a backbone of your own telemedicine video conferencing with robust features. Custom solutions that use SDK for healthcare messaging solutions will save the cost a bit. The best part of having HIPAA Solution is the computability, wide range, flexible features, and branding opportunities that it provides.
Advance Features to look out in HIPAA Compliant Messaging SDK
Today we are living in a world where we can remain in touch with all the latest happenings with our smartphones. So a healthcare application must function the same way keeping in mind all the information through HIPAA Compliance. Here is the list of important features that you should provide in your HIPAA Compliant SDK.
Sending Multimedia files- The app users must be able to share videos, photos, audio with data secured protocol. This enables sharing clear images of CT scans, ECG, and many more.
Chat History- Again data safety should be your first priority, the chat must be stored in the server so that one can access it anytime and anywhere.
Push-up Notification- This feature is important for almost every single messaging app solution. The healthcare app can send notifications of messages received or some update in the record via these push-up notifications.
Chats- The users should be able to chat one-on-one with doctors or participate even in group chat. Having chat with friends or colleagues in the chat might provide a better experience for the patient.
Synching- Patients use several devices for updating messages on all of these devices data synching is useful.
User roles and Permissions- It works the best for group chat functionalities where a user or healthcare professional can be the admin and regulate the group.
HIPAA Compliant Audio and Video Calling
Some of the key features of Top HIPAA Compliant Video Conferencing SDKs are:
Chat Integration- The API or SDK bundles pack in features of video and audio but not necessarily with the chat integration. This requires customization and developers can build this helpful feature.
Personal Chat and group video calls- Video calling should have all the basic features like turning on/off audio& video feed and device computability too.
Screen sharing- This feature, especially in healthcare can provide a great convenience for healthcare service providers to see the reports in real-time In addition to that they can also record the screen time too.
Customization- Users can change the background of the application or add music. This is a beautiful feature of wishing birthdays in group chats.
Dashboard for Admins- This results in better management and regulation of the app.
How to choose the right HIPAA Compliant Video Conferencing SDK?
There are a couple of details that one should check in a complete video conferencing SDK. The following are
The supporting capacity of API for messaging, audio-video calling
Who should initiate self-hosting or licensing?
Whether it is a ready-to-use UI Kit or not
On which programming language it is coded and how it will help developers at the time of integration?
Top HIPAA Compliant video Conferencing APIs for Healthcare Industry
There are several APIs that you can choose for your healthcare app solution. As one of the top healthcare digital solution providers, we suggest the following:
Sendbird
Twillio
Agora
PubNub
Vonage
Final Words
As the frontline heroes amidst this pandemic and post that, you must develop a HIPAA Compliant instant video and audio Conferencing solution as times are changing very swiftly. Unlike any other digital Solution, HIPAA comes with a lot of challenges but an elegantly designed and developed solution can be the perfect problem solver.
To know more about HIPAA Compliance or having any creative idea in mind then feel free to connect with our experts at info@b2cinfosolutions.com and get a free quote today!