The Perfect Guide to E-scooter App Development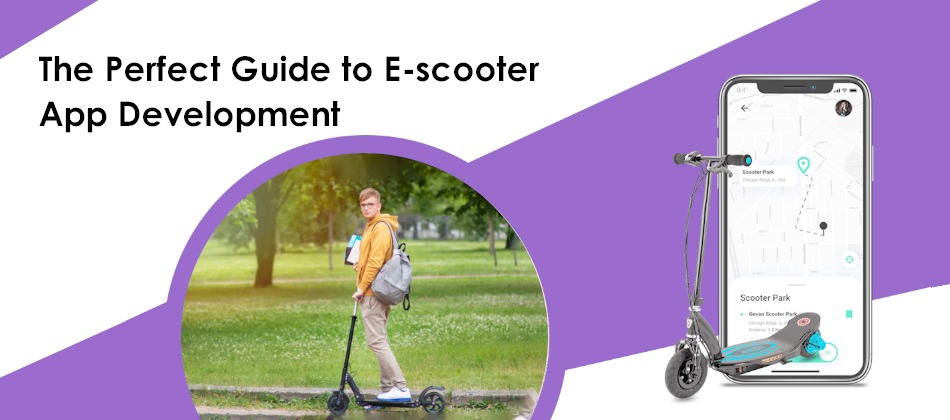 A Comprehensive Guide to E-scooter App Development
Technology is changing every single second. We have witnessed technological advancement in every single sector. The transport sector is revolutionizing blessing with us more convenience. Now with the changing trends, we are just one tap away from booking a cab to reach somewhere. Popular apps like Uber and OLA have made traveling quite easier. These apps have made an enormous place in the on-demand taxi and e-scooter categories escalating sustainability in the ecosystem.
This article from B2C Info Solutions the leading app development company enlightens you about everything that you need to know about e-scooter app development.
What makes E-scooter apps so desirable among business owners and end-users?
There are many things that you need to know before we jump into creating an e-scooter app. Let us explore the same.
The building of an e-scooter app isn't feasible from an advertising perspective but there are numerous advantages. There are different potentials that are driving consumer's focus and investments from shareholders. Various reasons attributing to this are:
Eco-friendly- It is quite familiar now that e-scooters do not operate on gas which in turn favors the environment. In comparison to other vehicles, e-scooters are environment-friendly.
Budget-friendly- E-scooters that operate on the battery are far more affordable than other means of transport. The cost of e-scooter ranges from $0.15 per minute which is quite pocket-friendly. So what are we waiting for?
No problem with Traffic- Along with numerous benefits, e-scoters would be the best option to avoid traffic hassles. The way that they are made to be little dockless scooters they just take fewer places.
Why do you need to invest in the e-scooter app?
With their ever-rising rates and the rising concerns regarding contamination, everybody from world authorities is aware of the benefits of a green environment and eco-friendly solutions. E-scooters provide the additional advantage of being cost-effective and convenient at the same time. Along with this, it also helps in decreasing the traffic congestion on several important routes.
The user Interest and engagement in e-scooter app service are likely to increase in the coming times which makes it a profitable venture for growing startups.
How does the e-scooter app work?
User downloads from the play store or app store
Creates profile and logins
Enter payment details
Search for accessible scooters nearby
Scan QR Code and begin the ride
Harness the lock on the program on the program to lock it.
Functions for Electric Scooter App Development
Navigation to locate scooters nearby
Real-time Tracking
QR Code Scan
Ride History
Push Notifications
Must-have features in E-scooter App
Map Integration- Allow users to locate e-scooters on the map, it is easy to rent an e-scooter with a tap of your phone.
QR Code and Unlock Ride- Make it easy for the users to scan QR Code and unlock it to start riding.
Payment Gateway Integration- Providing a safe and secure payment gateway so that every user can easily pay the amount.
GPS Tracking- Use real-time tracking so that the user can easily locate the location of the corresponding area the parking area.
Push Up Notification- Keep update to the user, with ride booking, location payment information end of the ride.
Ride History- Ride history must be updated in the user profile section.
How much time will it take to develop an e-scooter app?
The average time to develop an e-scooter application or program is somewhere around 3 to 4 months. However, if you want some customized features then development time would increase.
Willing to develop an e-scooter app then feel free to connect with our experienced consultants today.
It is quite evident that E-scooter app startups are growing every single day and many startups are showing interest in the same. So what are you waiting for?
Recent figures associated with the e-scooter business
As per the recent report, the worldwide electric scooter market size is valued at USD $13,864 million by the year 2025. It is expected to grow by 7.5% by 2025.
However, the present advancements are expected to provide increased power and overcome the present limitation thereby simplifying the industry growth.
How to find an e-scooter app development Company for your next project?
Firstly you need to be well aware that the development team has good knowledge about the concept or not.
Here are some factors suggested by our team of consultants that you must consider before you outsource your project to any developers.
Evaluate the ranking of the development team on numerous business listing platforms such as Good firms, clutch and make sure they work for the clients located across the globe.
The team size that they have employed in-house is essential to make sure that the team makeups up the scooter program builders.
Check all the client testimonials, previous working and also the market and Google Reviews
Check reviews of different agencies
If you are someone who is looking to launch your e-scooter app and want to outsource your project to a professional development company then you can connect with our consultants at info@b2cinfosolutions.com.
We love to hear from you. Cheers!