What does it cost to create an automotive marketplace like Yalla Motor in the Middle East market?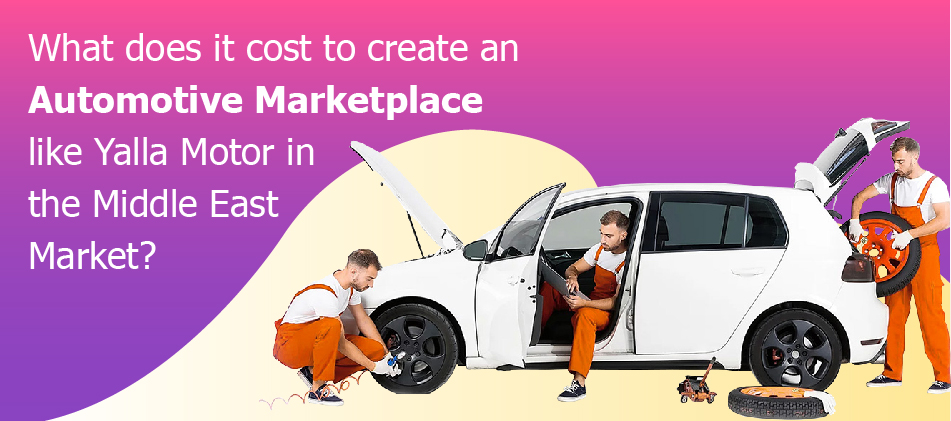 How much does it costs to develop an automobile marketplace Like Yalla Motor in the middle-east Market?
In recent years, the automotive industry in the middle east are gaining numerous opportunities due to the latest mobile applications like IoT, Bluetooth, and Custom Mobile Application, innovative solutions like Smart Car and Connected Car Platform are the best examples of Industry transformation.
Now, this is the time for businesses to leverage the power of technologies to add value to their services and to reach their targeted audience.
Only a few businesses had reached the mountain like Yalla Motor had transitioned to on-demand automobile service marketplace app platform development. People can use this platform to book on-demand car services like auto repair, washing, car denting services, and road assistance services in case of a vehicle breakdown.
Latest Statistics on Automotive Aftermarket Industry
Current industry trends have a vast number of opportunities for profitable businesses on both service/seller sides. Take a glance at the statistics below helping you to realize the huge business opportunities in Automotive Industry.
Global Automotive After industry is expected to reach $722.8 billion by the end of this year.
Around $65 billion generated by the auto repair industry in the Middle East in 2017
Billion Vehicles are on the world's road now and this is expected to reach 2 billion by 2035.
Merits of having an automotive service marketplace
Just like Yalla Motors, having a marketplace will help end-users to connect to the service centers as per their requirements and needs without facing much trouble. From searching the perfect marketplace, making appointments, and payments everything are done through a single mobile application via smartphones or laptops or any other electronic device, Customers can also select the packages or services as offered by auto service centers or garages.
For automotive service stations, here are three major benefits of having an automotive marketplace like Yalla Motors.
Smooth Efficiency- Automate your operational efficiencies such as order approvals, timesheets, works orders, and more with mobile and web applications.
Add value to your services- Auto service centers can add value to their businesses by removing lengthy paperwork and lengthy process.
Boost Sales- Easily update employees with information of customers and marketing process while tracking the whole process.
Why Digitization is essential for the automotive Marketplace in the Middle East for future growth?
As mentioned above about the rising growth of vehicles in the Middle East and this ultimately means there would be rising demands of customers for auto service and repair business. The garage owners will have to come up with some innovative solutions to enhance user experience which will help them to improve customer retention.
Just imagine if you are a garage owner in the Middle East, how convenient it would be for you to get completed details of the vehicle before the customer puts the vehicle at your workstation for service. This would certainly improve the timely deliveries and overall efficiency of the garage. With garage app development you can access large customer data through an efficient mobile application and it's environmentally free as well.
Having a business idea and looking for a professional team for the automotive service Marketplace App?
B2C Info Solutions is an award-winning mobile app development company serving clients located across the globe with industry experience of over a decade. We simply the premium choice for delivering tailor-made marketplace app solutions to the business of all verticals.
The automobile service marketplace app will allow garage owners or workstations to digitally record vehicle maintenance data for future purposes. The end-users i.e. vehicle owners will able to track everything aspect like service history along with bills. This helps in providing an impeccable customer experience and boosts happy customers for work stations.
If you are wondering what it costs to develop an automotive marketplace like Yalla motors, please note that it will cost you around $30,000-$35,000. But an app with advanced features might cost you around $40,000-$100,000.
Let's glance at what basic features can be availed in this price ($30,000-$35,000) range followed by add-on features. Team B2C Info Solutions can bring to you a unique solution to stand out in the competitive automobile industry.
Basic features of the automotive marketplace in the Middle East
Here are basic features to be added suggested by our team of experts in your automotive market:
For Vehicle Owners
Registration/ Login (if already a user)
Phone validation/ Forget password
Add & Manage profiles/ Add vehicles
Search and select service centers/garages
Categories
Registration/ Login (if already a user)
Book Appointment
Payment details/ confirmation
Track Order/Service
Push up Notification for new updates
Service Reminders
For service centers
Registration/login
Create and manage
Profile
Manage services
Customer management dashboard
Manage appointment
Staff Management
Appointment details
Services status update
Service report and future reminders for the same
For admin
Login
Dashboard
Manage profile
Manage vehicle owners
Manage appointments/ service requests
Manage payments
Push-up Notifications
Manage reports for future purposes
Add on features
For Vehicle Owners
Loyalty rewards
Social Media Integration
Video tour
Review and ratings
Roadside assistance
Chat Module
Service Centers
Booking Analysis
Manage Calendar
Chat feature
Notification settings
Revenue Analytics
Spare Part Companies
Dashboard Analytics
Manage orders and Requirements
Chat feature with Vendors
Replacement of spare parts
Revenue Analytics
Admin
Promo Code/offers
Dashboard Analytics
Chat for customer support
Customer Analytics
Innovative Feature set for automobile market place
Chatbot for Demand marketplace- Our skilled chatbot developers build customized chatbots to speed up the conversion process. This will help customers to book auto repair services in less time with more accurate information.
Voice Assistance- Let Google Assistant, Siri help your targeted customers to book the auto repair service with ease. Hire our dedicated team of developers to integrate voice features in your mobile applications to boost the booking process along with enhancing the user experience.
Safe and Secured Payments via Blockchain Technology- Leverage the power of Blockchain Technology to have a decentralized auto service market app platform. All the users will be enabled to use the open-source platform and share the revenue fairly with transparency.
Team Required for Service Marketplace Development
We deliver the most robust, scalable, and secured marketplace mobile and web applications with the assistance worldwide recognized development team (Android+iOS). The list of resources required to develop a marketplace like Yalla Motors in the Middle East includes:
UX/UI Designers
1-2 Android Developers
1-2 iOS Developers
Web developers (for Web Application)
Backend Developers
Project Managers
Quality Analysts
Business Analysts
System Administrators
The technology we use to develop robust automotive marketplaces
Android
AWS
MEAN Stack
Google API
Google Analytics
Swift iOS
Stripe
Sass
ZOHO
Fabric iOS
Magneto
Laravel
PHP
Python
.NET
Node.js
Join Hands with B2C Info Solutions for Automotive Service marketplace in the Middle East
We design, contrive and deliver game-changing marketplace web and mobile with an in-depth understanding of market trends and gives you a solution that fits your business requirements. Our experienced team of consultants sits down with you before moving ahead and tries to add value by delivering the best product with quality services.
Having an idea to develop an automobile marketplace like Yalla Motors? Connect with our experts today at inf@b2cinfosolutions.com.
We love to hear from you soon.