What makes Fintech apps so successful in 2021?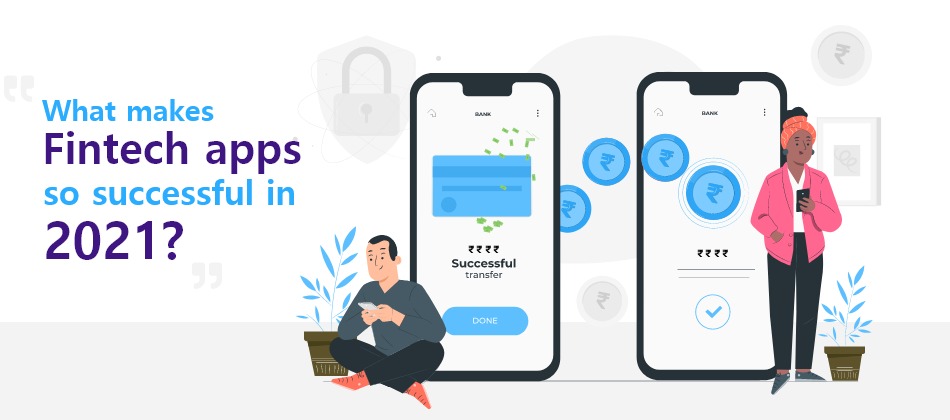 In these pandemic times, after contactless delivery one thing that has emerged as a preventive measure is surely digital payment apps. And in this year i.e. 2021 everyone is talking about Fintech an evolving technology enabling users to make all their important transactions without much hustle.
In the first two weeks of January 2021, fintech startups recorded 10 deals worth $100 million or more compared to three in the period of 2020. In a single week, more than $1.7 billion in fintech funding was announced.
There is nothing that you have read wrong here yes! 17 billion funding in a single week. This enormous investment is something that has become word of mouth. So let's discuss what makes Fintech apps so successful in 2021?
This blog from the expert team of developers and consultants has outlined the winner categories such as app store optimization, User Retention, and key features. So read the full blog till the very end.
Let's start
App Store Optimization- First impression is so important why? Since nearly 73% of Fintech Users churn within a week. As of February 2021, there are over 10,000 fintech startups in the USA and numbers are growing with every month passing. So it is even more important to create a user-friendly, memorable onboarding experience that provides a smooth user experience. Here are three Apps that present a strong app store optimization.
Coinbase- When we talk about the first impression, it's about those first few seconds when a user takes up your page on the app store. The total number of users that this app has is over 53+ million and the app rating average is 4.7. This app is cited as one of the best apps for cryptocurrency for all beginners.
Cash App- Just because you are in Fintech that doesn't mean you need not invest in your branding but Cash App has removed that misconception. Around 3 million bitcoin transactions in 2020 were made using this app. The colors used in the story are bold and dynamic as you will scroll down below then you will be able to see clear CTAs.
Mint- One of the things that makes the app stand out from its competition is a useful 30-second video that offers a snapshot of apps features and USPs. In half a minute, a user knows that mint is designed to help them track spending and cash flows.
User Retention- In this as we have discussed above, we have highlighted that 73% of users churn within one week. Take a look at fintech apps that are winning user attention when it comes to user retention techniques.
Paypal- Paypal has set an ambitious target of 750 million active accounts by 2025. Their plan is to reach all the milestones. Its new features including Buy Now, Pay later and Cryptocurrency trading has helped the app gain more user retention and engagement.
Credit Karma- Back in 2017, more than 30% of credit karma users came to know free tools such as debt repayment calculators and credit score stimulators. Whenever you going to search "Credit Score stimulator" you will see the app ranked right at the top. The number of users and the time they spend using these tools add up over time.
Venmo- In October 2020, venom introduced its first credit card and the front carried a QR Code. A month later, the company also introduced QR code touch-free payment technology in all CVS Stores. The app monitors customer behavior and acting on it showcases why the app is a pioneer when it comes to user retention.
Features- The global Fintech market is expected to reach $305billion by 2025. With exciting technological trends such as AI, partnerships between digital and traditional banks and there is a wonder that 2021 has app developers, investors, and consumers buzzing.
Money Lion- Two words for it RoarMoney, a new deposit account. Ever since its launch in July 2020 the app has become the talk of the Fintech Industry. With Roarmoney account holder has a virtual debit card and master that enables enjoy the feature of contactless payments. Two sub-features of this app are:
Shake N Bank- Users can earn cashback to their wallet by simply shaking their phone. An amount between 1 cent to$120 dollars shows up. And the money gets transferred into the wallet of the user.
Early pay- Users can get paid two days early and benefit from 0% and cash advances up to $250 after direct deposits.
2. Voyager- Designed with intermediate traders in mind. Voyager is a comprehensive exchange app that offers simple trade and intuitive trading. It's a notable feature like real-time news feed, the integrated calculator can benefit intermediate traders in Cryptocurrency.
3. Ally Bank- The innovation lab launched in 2018 and is made up of small team members who have expertise in different areas. For an instance Ally Bank is working on a new product or service, they send representatives out to talk to customers, non-customers about their financial plans and helps in informing about their progress.
Final Words
We have analyzed the top fintech apps of the USA and for India, it's CRED as of now and enlightened you with 3 factors that make the top apps stand out from the competition. As far as the future of Fintech is considered, they are the main pillars of digital transactions.
Wanna learn more about the evolving sector? Connect with our experts at info@b2cinfosolutions.com