A Definitive Guide for React Native App Development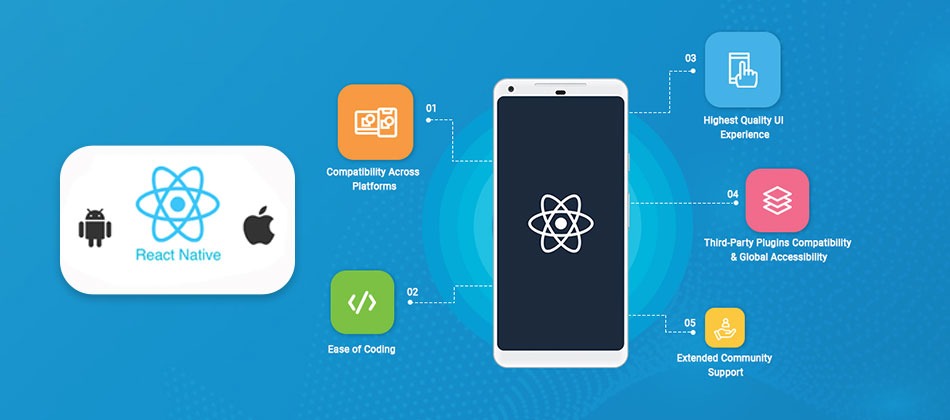 A Compendious guide for React Native App Development
The world application brings a bundle of opportunities. While the growing technology has everything at our fingertips, it has made the work of developers quite complex. Now developers have numerous options in terms of the technology stack and choosing the best is one of the hectic tasks. An App creator often comes across a frequently asked question which should be chosen in between Android or iOS? For the top React Native App Development Company always suggest react Native apps including features, and much.
In this blog, we try to fetch you all one should know about React Native App Development that includes features, comprehensive comparison with other major technologies and much more. Read it till the very last.
What is meant by React Native App?
React Native is an open-source mobile app development framework powered by Facebook and it is widely used for cross-platform apps. This certainly means that apps built with this platform are highly compatible with iOS and Android systems, unlike native apps that can install for one particular system only. We have other technologies as well for cross-app development before react native. But this has been filling the gap between native and hybrid apps.
What are the key features of React Native Apps?
As we mentioned earlier there are many cross-platform or hybrid app development platforms but react native itself apart from its magnificent features that tend to distinguish the drawbacks of hybrid apps in comparison to native apps. Native apps have a special place for their engaging and creative UI and UX by integrating the in-built apps like calendar, location, flashlight, etc. This is the reason why the coding for native apps is distinct to one platform (Android or iOS). But with the current trends React Native app development has drastically changed the dimensions of making it possible for hybrid apps too, to integrate with local features and deliver a native experience with single coding. Let's discuss its distinct features.
User Experience (UI)- The biggest drawback of cross-platform was they don't provide the user experience of a Native App. Native apps had the power to integrate with host device features and create a user-friendly design that copies OS. These apps fill the gap by delivering a native-like experience to an app quite computable with multiple platforms, it is built with Native APIs directly and boots high performance, quick load time, and aesthetic appeal.
Reusable Coding- With react native technology developers doesn't need to code again and again for Android and iOS. This code reusability enhances the efficiency and overall speed of the development process and also reduces the overall cost. To achieve something unique, the developers can use the extensions that detect the device's OS system and deliver the targeted results.
Secured Plugins- Being one of the most popular frameworks react native is adding more and more features every single day. It is well backed up with a huge library of security extensions that can deploy to make the application more convenient to its users. For an instance you need to integrate the application with Google maps, all you require is that you need to explore the library of third-party extensions and find the best one for yourself it enables you to customize your app and stand out from the competition.
Cost-effective and time-saving- While developing native apps you can predict the time and cost as it requires a committed and dedicated developer to code natively. For an instance, the iOS app requires knowledge of Objective C and Android requires Java. On the other hand, for react native you can use one for multiple platforms this saves a lot of time and money.
Community Support- React native framework is used by a number of big brands in the market like Facebook, Instagram, Skype, etc. With so many badges in its support the technology support from renowned brands across the world. The biggest advantage of strong community support is for all the developers out there. You can easily find the libraries of relevant information to develop a game-changing react native app development.
What is the future of React Native App Development?
There are some major reasons to back this framework. Over the last decade, smartphones have become the primary computing device replacing all other major gadgets. The evolution of the smartphone market has witnessed quite a boom and that largely due to user-friendly mobile applications. With time growing demand for mobile applications will help all the frameworks that include react native as well.
Final Words
As mentioned earlier, react native is powered by popular global brands like Facebook and many more. The framework is widely used and accepted but your choice of technology largely depends on your business idea. For instance, if you are planning to develop an iOS app then Objective-C would e the perfect solution to that.
In addition to that, if you are planning to take the project with a small team then this framework could be very challenging for the development team. But the future of react native brings a lot of opportunities and the advantages overpower disadvantages. It improves the speed of development and there are no sides to a coin. The response of react native is overwhelmed as the big names also relies on its efficiency and creditability.