AI and ML transforming the Food processing Industry and Restaurant business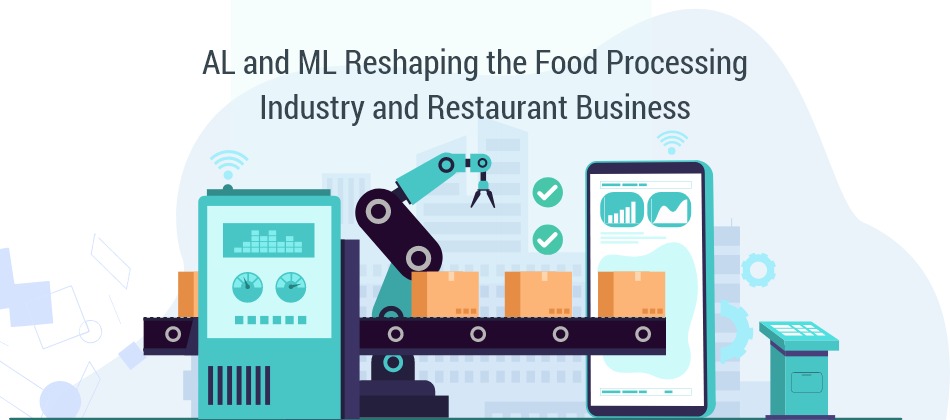 AI and ML Reshaping the Food processing industry and restaurant business
Whenever we talk about the food industry, technology is the first thing that comes to mind. With the changing trends of the industry, technological solutions are a part of food products and processes. We find food through applications and manufacturers produce it with the help of robotics and data processing. Tech could improve the packaging and increase food safety. The quality of food is also improved and the production costs get quite lower.
In this blog of B2C Info Solutions, we will discuss the role of Artificial Intelligence and Machine learning in food tech.
Artificial Intelligence and Machine Learning offer endless possibilities to optimize and automate processes, save money and reduce several human errors for many industries. AI, ML can benefit the Restaurant and café businesses in food manufacturing. How Is that possible?
Let's take a look at some common cases where machine learning can be applied in both the manufacturing and restaurant businesses.
Commence from Food Market Analysis
Getting familiar with what types of goods would be manufactured in large numbers and what dishes in your restaurant menu will help you to increase the revenue. Both customer and market demands are changing at a very fast pace so it is very important to stay ahead of your competition level.
Here are top five applications of AI that directly impact the food processing companies and help them to increase the revenue and boost customer experience.
1. Sorting packages and products- The initial operational challenge that food companies often face is sorting the overall stock. Every ingredient tomato, potato is different in its pattern and taste so it is very essential to maintain quality ahead of rising competition level. If not AI then other advanced technologies like IoT can help as it helps in decreasing the amount of human labor.
However, Kewpie Corporation a Japanese food processing company crafted an AI-Based Tensorflow machine to identify impurities present in the food coming straight from the farms. Big firms like Kewpie Corporation are assisting food processing companies not only to enhance their revenue but also enhance their yields as well.
2. Food Safety Compliance- Safety is a massive concern in the food processing business. Even the smallest contamination in food can be detected by AI-based modules. In collaboration with Remark Holding, the Shanghai Municipal Health Agency implemented more than 200 restaurants and is currently planning to expand it to over 2000 restaurants.
The AI-enabled cameras assist restaurant managers to keep a watch on the workers as to whether they are wearing proper Food protection gear as per the food safety regulations.
3. Enhancing Cleanliness- Hygiene is a major concern for food processing companies. Many Companies claim to clean as ice as their every process is automated and untouched by human hands. What equipment do they use? With the changing trends, customers have become intelligent too. They don't believe that an automated process makes the product safer as they require proof.
Traditional cleaning systems didn't include any sensors which resulted in the residual of food particles in the vessels of equipment. The system was unable to clean food particles which the new self-optimizing cleaning system cloud.
4. Developing Products- The food processing industry is quite unique in its own way as there are so many products that a single company can provide. Just for instance In recent years, Coca-Cola has bought more than 500 brands and offers more than 350 drinks to their customers. But an interesting question arises, how the company gets to know which flavor to be produced next? Before the introduction of AI, they used to conduct brand surveys and campaigns to identify what exactly their customers need.
As of now, Coca-Cola offers several self-serving fountains which allow customers to create their customize drinks by mixing other drinks. Using AI the fountain analyzes and identifies the majority of customers mix-cherry soda with sprite.
5. Helps in Decision Making- Quite similar to food processing companies, AI Assists in making effective purchase decisions. FMCG giant Kellogg's launched bear naked custom allowing customers to create their personalized granola with the help of 50 ingredients. The system is used in IBM to store a number of recipes and feed them to an AI algorithm that helped customers to identify whether the ingredients taste good or not.
Now let's talk about how Machine learning can be helpful in the manufacturing and restaurant business.
Analytical solutions for a better customer experience
At present, there is a number of applications in the food industry that may help in predicting visitor traffic and inventory needs to predict the number of orders needed for a certain period or date. Such applications and solutions collect previous data to engage customers more through examining their habits and preferences: it brings more repeats and orders as a result.
Food-selling sites and applications
Once you have defined what you are about to produce, the next step is to make the best online service system for your food and beverage business for people who have discovered your presence, and yes online sites provide you with more orders and recommendations from family and friends.
Self-serving system
Self-service systems enable customers to order systems, carefully examine their choices and sometimes even check the number of flavors and spices in a dish that is being adopted by the restaurant. Sooner, this technology will be available for all sizes of restaurants.
Final Words
Despite being in the initial stage, AI is already taking over and handling more businesses. Sooner it will be revolutionizing the Food processing and hospitality industry. AI will help these companies to increase their revenue by speeding up the production process, reducing maintenance time, and aiming to deliver products as per customers' expectations.
To know about these emerging technologies you can connect with our experts at info@b2cinfosolutions.com.