AWS VS AZURE VS Google Cloud - Which is best for your business?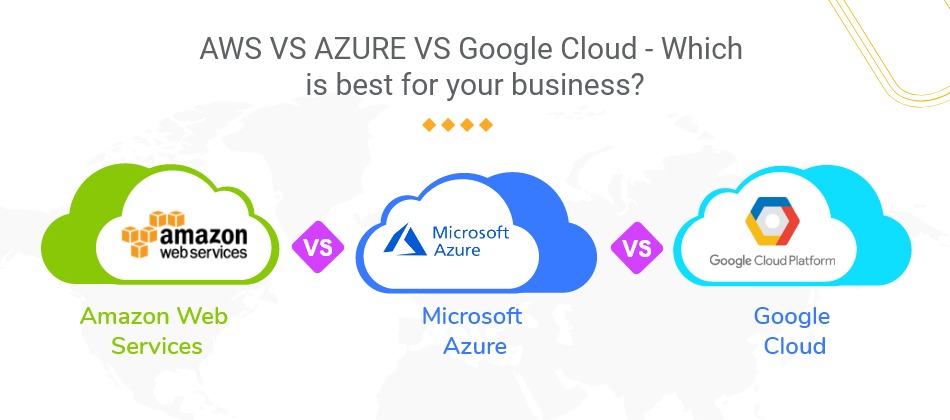 Having an app idea and preparing to develop it? You must be thinking how to launch it?
When you are developing an app for your business then obviously you would be exploring more ideas for that and your business too. This includes managing servers; synchronizing data across various devices, get real-time updates, and much more.
To help your app to avail all the above things seamlessly you require a hosting service that enables you to develop scalable apps and backend infrastructure without getting disturbance in managing servers.
This is where Cloud Computing comes into the picture. The Industry "Cloud Computing" is growing exponentially in the last few years why? Because of its unbeatable computing power, and unmatched scalability.
Now with the changing trends more and more businesses and enterprises are adopting cloud computing and the industry is growing at a very swift pace. Now the question arises which cloud platform you should choose for your business for optimum results?
But the Cloud Computing market is flooded with numerous Cloud service providers mainly AWS, Google, and Azure so makes it more confusing for the business owners which one to choose? If you are someone who is wondering this too then this blog from B2C Info Solutions a leading web and mobile app development Company is for you.
Here we are going to compare all three platforms. So without further ado let's start.
How to choose the right cloud platform for your startup?
Selecting a cloud platform can be hectic for startups since they don't have any experience and don't know how to use it. So what's The best you can do is check recommendations and seek the expertise of experienced business owners or developers having cloud-based app development experience.
Before you move ahead with your cloud service provider, here are three types of Cloud services that you should look at.
Software as a service
Platform as a service
Infrastructure as a service
You must have seen the abbreviations of these a number of times while looking for Cloud companies. So before you move ahead in detail let's discuss this one by one.
SaaS- Software as a Service is basically defined as providing software for membership over the Internet. SaaS solutions are the best alternatives that are acceptable when your business is time-sensitive and isn't prepared to develop your own infrastructure to curate and launch mobile applications.
PaaS- Platform as a service that provides you ready software environment to launch your mobile applications. Such services also give you the required tools for the exact configuration of the development environment, operating systems, hardware, and tools for testing as well.
IaaS- Infrastructure as a service provides online access to resources like networking systems, cloud servers for deploying projects and operating systems. This is acknowledged through Virtualization, without developing and maintaining infrastructure.
Amazon Web Pricing- Features and Pricing
Amazon web services, popularly known as AWS is a cloud computing platform developed by AWS, it provides a mix of IaaS and PaaS services. In addition to that, it offers SaaS services also as packaged software. Let's dig into its features and pricing.
Features
AWS offers almost every feature that falls under the umbrella of Cloud Computing. Their cloud computing services enable you to access data storage, and other computing power essential for the developers. The application services combined with the computing and database infrastructure are basic necessities for a successful enterprise app development team. Here are some stunning features of this platform.
Mobile-friendly access- AWS mobile-friendliness enables you to decide the appropriate and compatible feature for your mobile application. It incorporates a console that helps you access AWS services that incorporate the development, testing, and maintenance of the mobile application. It incorporates clear approaches to choose and configure mobile application features like Content-delivery and Push-up notification.
Serverless Cloud Functions: Amazon UPI and Amazon Gateway help developers to execute their code and scaling. The serverless cloud functions help clients so that they can focus on just building the application.
Databases- Amazongives access to databases as per the requirements and it is well managed by them completely. Some of its uses are:
Data Warehouse for Analytics
In-memory data stores are used for caching and real-time workloads.
Graph databases are used for applications with highly connected data.
For transactional purposes, relational databases can be used.
Storage- Storage is one of the flexible, economical, and easy to use features provided by pioneer Amazon. This storage function can be utilized freely as well in combination to meet your prerequisite.
Amazon is used for its long-term storage.
Amazon's basic storage service provides scalable object storage for analytics and data backup
The Amazon EBS provides block storage options that can be used for persistent data storage with EC2 instances.
Pricing
AWS pricing is quite mysterious. While it has a calculator on the website, there are many factors that make it difficult to get the exact estimates. As per Gartner, its pricing is quite complex, thus the use of third-party tools is recommended.
Microsoft Azure
Azure is Microsoft's cloud computing platform and infrastructure intended to develop and deploy through a giant network center managed by Microsoft. It was launched in 2010 with the name Windows azure and later the company changed its name to Microsoft Azure. In Azure, you can do your work at whatever your current capacity and that too within a single minute.
Every element of Azure that is used to develop a virtual network and deliver applications or services are easily accessible with Microsoft Azure that includes:
Virtual Machines- These Cloud-based virtual machines will launch your applications as they reside in your own data center.
SQL Databases- Azure provides managed SQL relational databases as a service. This spares you overhead and costs on hardware, programming, and the requirement for expertise.
Azure Active Directory Domain Services- Developed on the same proven technology i.e. Windows Active Directory. This administration for Azure lets you remotely oversee group policy, validation, and other important aspects
Storage- Youcan undoubtedly count on Microsoft's Global Infrastructure to give safe, profoundly accessible data storage. With massive versatility and an intelligent pricing structure that lets you store access information at affordable prices.
Pricing
Microsoft Azure doesn't make things any simple if we talk about pricing. Due to its licensing and other discounts, its pricing structure can be difficult to understand so it is better to seek the expertise of a well-experienced development team.
Google Cloud
Google Cloud Platform gives a solid and exceptionally scalable framework for the developers to develop and launch mobile and web applications. The platform covers application, storage, and computing backend services, and web solutions. Presently four million apps trust and leverage the power of this robust platform. Let's take a look at its features.
Compute Engine- Thisis Google's Infrastructure as a service, with this you can leverage the power to run workloads on an enormous scale on virtual machines. You can choose the virtual machine to meet your requirements and enjoy consistency.
App Engine- Increase profitability by utilizing the in-built administrations to curate your applications. You just require for developing SDK to begin development work quickly and free.
Cloud Storage- This is a storage service that is exceptionally durable. Users can rapidly your data from anywhere. Google has a simple API that enables it to handle data logically.
Pricing
Google's pricing is its biggest strength and it aims to offer cost-effective pricing techniques that beat the prices of other competitors. As per Gartner, it offers multiple discounts to its customers and tries to win ventures from customers which are likely huge amount on cloud providers.
Where to go?
You must select the cloud provider depending on your business needs and workloads. Amazon, Microsoft Azure and Google Cloud provide the basic functions and features. They all offer public offers including instant security, auto-scaling identity management features.
So we mentioned all the features and pricing on all of three platforms so that you can choose wisely. However, if you further assistance then feel free to connect with our experts at info@b2cinfosolutions.com.