Role of Business Intelligence in Mobile App Development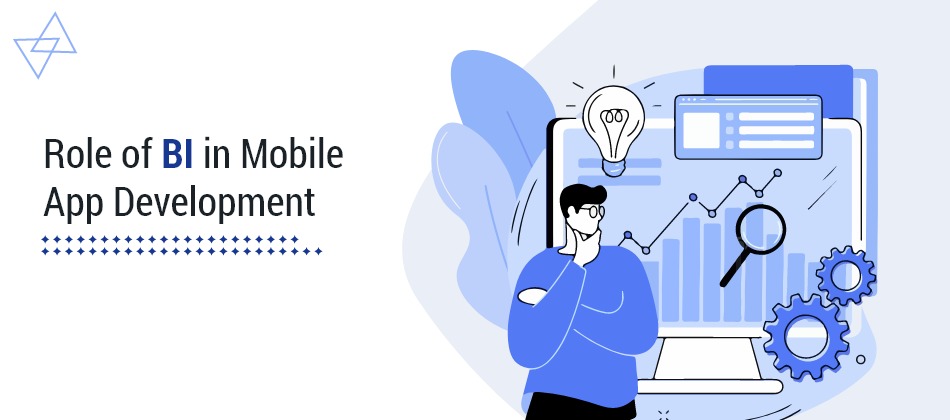 Role of Business Intelligence in Mobile App Development
Business Intelligence or BI is the integrated software that is used for business analysis and management. With the assistance of BI, various business and organizations can easily analyze their data without taking help from an IT department. Thus, we can say that BI has taken mobile app development to the next level.
AI has transformed the complexion of the modern era and smartphones are the best example of it. With these technologies, business intelligence is getting more exposure and a lot of things are yet to be explored.
And we were getting a lot of suggestions to pen down the role of Business Intelligence in mobile app development. So here we are for you. This blog fetches you all the important information regarding the same. So make sure you read it till the end.
What is Mobile Business Intelligence?
Mobile Intelligence is the power of mobile devices to learn, adapt, analyze and understand user behavior through various aspects. Just for an instance, If any mobile user switches off the vibration mode with the silent mode the vibrate option gets disabled itself. In this, your mobile analyzes and understood settings to be set to make it easier for the user.
And the constant evolution of cellphones, and now the use of mobile devices is not only limited to communicating with people but also utilizing them to obtain information and utilize this information for data analysis purposes.
Mobile Intelligence is the capability of business owners to deliver relevant service to the customer at any point of time, any place with help of collection information. It allows them to extend their decision-making ability and serve better.
Perks of Business Intelligence
The major benefits of Mobile Business Intelligence are that your customers can access the data at any time or anywhere. Here are some key benefits of Mobile BI for your business. Here are some key benefits.
# Information Gathering
When you incorporate the Machine Learning model in your mobile app. You will get the data more frequently or in real-time. With this data you can able to perform various operations in less time with enhanced efficiency.
# Effective Decision Making
When the gathered information is available to you all the time and is being analyzed using multiple analysis tools. It makes it quite easy for all business owners to make effective decisions in a quick time period.
#Improved Customer Satisfaction
When your performance is up to mark and you are certainly ahead of your competition, your productivity increases with increased productivity, you will reach your customers faster, and can serve you more effectively. Once you get to connect with your customers, it will fulfill their requirements and make them satisfied with your services.
#Enhanced Revenue
With effective customer satisfaction, a faster decision-making process and other major accomplishments in every aspect of business, your revenue will increase. A satisfied client will help you to generate more referrals which certainly means more revenue to your doors.
Major Challenges of BI
We have given some benefits of business intelligence in mobile app development. But here are some challenges as well. Let's discuss these in detail.
1. Network Condition
Customers living in rural places face unstable network conditions. Sometimes it takes a lot more time or it is next to impossible to find an internet connection. So network challenge is the main issue for online service providers.
2. Complexity and Size
An increase in customers and fulfilling their requirements result in Complexity in the machine learning model and increases in the size of the data collected. As data size increases, it directly affects the performance of service availability.
3. Hardware Capability
As all operations are done via mobile devices, high-performance hardware is needed to run those programs. High-performance, hardware may fluctuate the price of mobile devices.
Business Intelligence Tools
Business Intelligence (BI) tools are the applications that collect and interpret massive amounts of unstructured data from different systems such as websites, mobile apps, videos, emails, and other business sources. Some key tools for Business Intelligence tools.
Google Analytics
Trust pilot
Databox
G2 crowd
Zoho Analytics
Final Words
Business Intelligence has a whole definition for businesses and organizations today and it had helped them to reach success. The term business intelligence refers to technologies and processes that enable a business to acquire data from internal and external systems.
Many businesses are developing mobile apps to make their businesses smarter, more efficient, productive, and have higher customer satisfaction. And you can do it too by connecting with our experts today.
Connect with our experts at info@b2cinfosolutions.com.