The Complete working process of DeFi Lending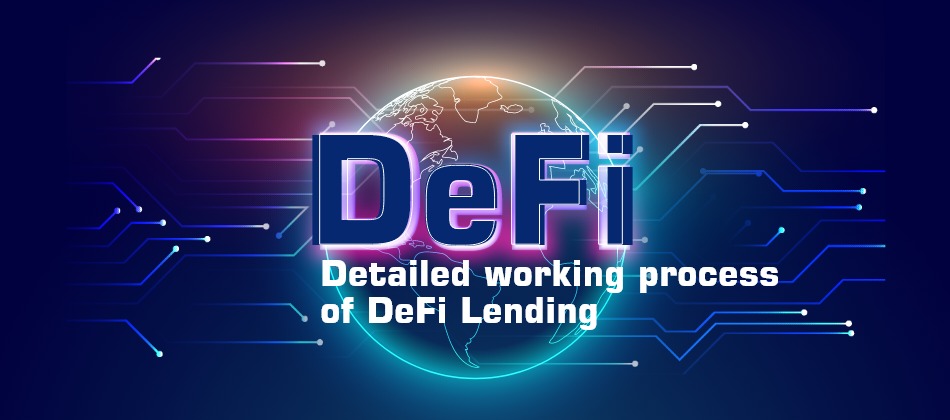 Detailed working process of DeFi Lending
The Rise of De-fi has strengthened the clients for the Blockchain implementation in the development of Fintech Apps. De-fi or we call it decentralized finance, has recently gained prominent attention as it has garnered massive amounts of capital for various organizations and enterprises.
You will be totally surprised to know that almost $20.46 billion is locked inDeFI protocols, proving that popularity of such application has risen over last few years. This has certainly influenced the growth of Defi-lending and now with the changing trends, lending's now up surging parts of crypto currency ecosystem.
In layman terms, Defi-lending is all about offering crypto loans on a decentralized platform. And Among all the Decentralized Applications (Drapps), Defi has the highest lending growth rate worldwide. It is one of the prominent contributors utilizing for locking all the crypto assets.
In this blog from B2C Info Solutions, we are going through the overall working of Defi-lending and much. So make sure you read it till the end.
Working of Defi-lending
By now, you know that Defi-lending aims to offer a completely transparent, permissionless, open-source financial service environment.
Now we are going to discuss its overall working structure.
Defi lending or decentralized finance lending, is quite similar to the traditional service by the banks, except that is offered by the P2P Decentralized app. These Defi-lending platforms help people borrow and lend funds that allow crypto holders to earn a substantial income.
The Defi-lending process is quite simple and it focuses on offering loans with a trustless approach. This certainly means that the users can easily lock their crypto assets on the DeFi Lending platform without worrying about all the intermediaries. The borrowers can directly opt for the loans from the decentralized platform with the help of P2P Lending.
Not only that, theDeFi Lending protocols help lenders to earn Interest on Crypto assets. As compared to the conventional banking system Defi-Lending enables users to become a lender just like any other bank. An individual can easily lend their assets to others and enjoy the interest on that particular loan. Just like loan offices in traditional books, DeFi lending mainly relies on the lending pools where the users can add their assets to the lending pool and ensure quick distribution through all the smart contracts.
How DeFi is different than traditional Banking?
The traditional or conventional lending system includes borrowing, lending, margin trading, and spot trading. The DeFi ecosystem, however, has adapted and can offer similar financial services.
The smart contracts take care of the entire reviewing process, making it quite easier for the borrower and the Lender. DeFI on the other hand offers better returns when compared to the traditional lending markets.
Benefits that DeFi Lending offers to users
DeFI lending mainly works by engaging the participants to the contribute funds by depositing them at interest. These interests are way better than that of traditional banks. Let's discuss the benefits that DeFi Lending.
Accountability
It is one of the top benefits of DeFi Lending. Blockchain is a public ledger that offers on-demand records of all the DeFi loans along with the policies and rules that are granted for the loan.
Lending Analytics
Having a completely digital process for lending mainly helps in the assessment and monitoring of the borrowing and lending market, it is another major benefit of the DeFi lending platforms to gain insights on loan sources that can help improve the performance of the loan.
Speed
DeFi loans are processed quickly. And the lent amount is available instantly once the loan gets approved. These are processed faster because the DeFi lending platforms are powered by all the cloud services that prevent any fraud and other DeFI Lending risks.
Transparency
Blockchain can be easily verified by users present in the network. DeFi lending ensures transparency as the decentralized nature of the blockchain mainly ensures that all the transactions are genuine.
Permissionless
Decentralized Lending offers permissionless and open access to anyone with a DeFi Crypto loan wallet. One can easily access the DeFi applications built on Blockchain networks regardless of the presence of their or the geographical location.
Disadvantages of Decentralized Funding
Several discussions about decentralized finance largely focus on the benefits of DeFi Funding. But it is equally important to highlight its disadvantages of it.
Uncertainty
If there is any instability while hosting a blockchain in a DeFi Lending, then the process can automatically inherit instability directly from the blockchain. As of now, the Ethereum blockchain is going through major changes.
Scalability
DeFi Lending can encounter difficulties maintaining scalability for the host blockchain from various aspects. For an instance, DeFi Transactions require more time for confirmation. Not only that at the same time, but the DeFi protocol Transactions could also become a bit expensive during the congestion period. Overall this affects the entire scalability.
Top DeFI Lending Platforms for you
As we have mentioned above DeFi Lending platforms offers loans to businesses or the public with no middlemen involved. DeFi lending protocols enable people to earn interest on cryptocurrency and supply stablecoins. Here is the list of top DeFi lending platforms suggested by our team of experts.
Compound
The compound is a kind of autonomous interest DeFi Lending rates protocol Utilized for open Financial Applications. Users can directly earn a second income by depositing the cryptocurrency through borrowing and interest crypto.
Aave
It is yet another popular DeFi lending platform that was launched in 2020. It is non-custodial and an open source liquidity protocol. It allows its users to deposit crypto in the liquidity pool soon after they will receive the same amount of Atokens.
YouHodler
It is another hybrid platform that provides power-packed lending with stablecoins and fiat loans. The mission of YouHodler is to help people to stop passive holding (buy and hold strategy) and utilize crypto assets completely.
Future of DeFi Lending
DeFi Lending has witnessed stellar growth in the last few years. Although 2023 is likely to bring new challenges, there are also excellent opportunities. Several projects based on DeFi are gaining momentum as more investors are investing in financial technologies. So what are you waiting for?
Connect with our expert team today at info@b2cinfosolutions.com.