Comprehensive Guide for hiring a dedicated team taking your business efficiency to the next level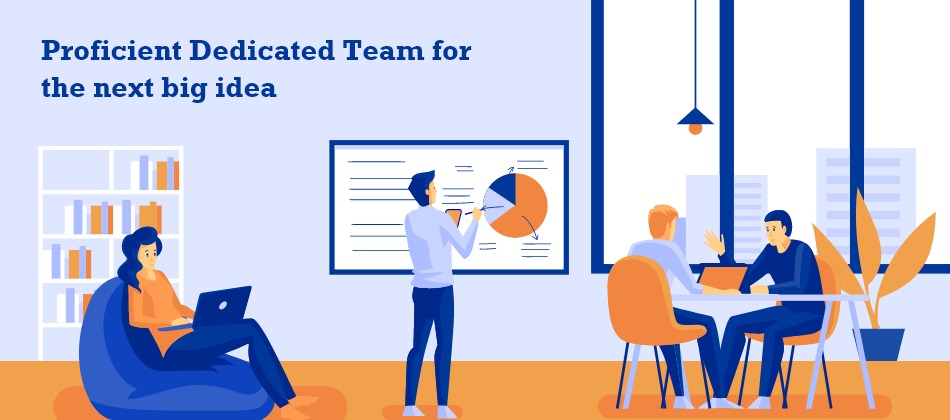 Planning to hire a dedicated team for your Project? A Must read blog for you
Hiring a dedicated team will not ease your workflow burden but it also boosts the confidence of your in-house developers but it also assists them to meet all their tight deadlines without any delays. This blog from team B2C Info Solutions brings to you the process and faqs of hiring a team of dedicated developers in an organization.
According to a recent survey, it was revealed that the American tech market was badly affected by the talent shortage and there were many positions that got filled after a long time.
Let us get straight to the fact, without spending a good amount of money finding the developers with the desired skill set is impossible.
Resulting, many companies are trying to figure out alternative ways to save costs and achieve their KPI. But there are many organizations in the market that are keen to hire full developers, while some choose freelancers on an hourly basis. But another feasible option is hiring a dedicated development team. And team B2C Info solutions provide the same, just like developers will be an extended part of your current team.
We have created certain guidelines and suggestions that will help you to land the right development team. So without further ado let's dive into it.
What exactly is a dedicated development team?
A Dedicated team of developers is a group of developers that helps you with all your tech and software development requirements. These are not freelancers at all, they can easily find projects for startups, mid-level businesses, and big enterprises as well.
A personalized dedicated team includes:
Front/backend/full stack developers
UI/UX Designers
DevOps Engineers
QA Engineers
Project Engineers
And not certainly not the least ones, Business analysts
Notable companies that hire a dedicated development team
Here are some examples of tech giants who are using dedicated developers to support their projects.
Skype- Theyhired an external team of developers to introduce Skype calls to 2G network and add click buttons to third-party websites. The most interesting part is also brought external teams into play to build server-side for their mobile applications.
BBC-The biggest broadcasting platform merged its developers and a dedicated team for an e-commerce platform. And ultimately, this 6-month project doubled their revenue.
Reuters- They delegated a UX Development initiative to an external development team. The app is known for its impeccable features and optimum performance.
What are the perks of hiring a dedicated development team?
Here are some key pointers where having a dedicated team for a project can be so fruitful.
Cost-effective pricing
Access to the global pool of talent
Flexible working hours
Agile working approach
Quick turnaround time
Open communication
Complete control over the project
Strategies to follow while hiring a dedicated development team
As a decision-maker, you should collect all the important information such as background checks like knowing about previous projects, pricing models, customer feedback, and much more. So a dedicated team should have.
Follow the latest trends and practices in Software development
The latest trends can't be ignored as it improves workflow, reduces cost spent and brings efficiency in the work. Similarly, industry best practices enable you what industry experts are up to and try to provide you the best performance digital solutions.
Whether you are hiring a front-end or backend developer for a project, you should always ask vendors whether they follow all the latest trends. No developer can recommend the latest technology just because it's trending, it is always a good idea to consider them.
Promote Agile methodologies
According to a recent report, it is revealed that agile projects are 28% more successful than others. Be it extreme programming or normal one agile methodology is preferred for the flexibility and efficiency that it brings to the development team. So to make sure smooth flow of working and ideologies, you can have a combined meeting for both the team to enhance their coordination. Not just that, arrange weekly meetings with project managers to make that everything is going as per planning and in the right direction as well.
Strictly follows security protocols
The best SDLC has security embedded at every stage and it is a crucial factor to consider when hiring a dedicated development team. This is the first step in delivering a secure product for your business. In your meeting, discuss with your team what security protocols they are going to use to avoid any vulnerabilities in the software just at the start of the project. In addition to that, in-house and your team can adopt the security measures based on their expertise.
When do you hire a dedicated development team?
You must be wondering when there is a need to hire a development team. Here are some points that can remove your all queries.
Shortage of Development Skills
Yes, the project scope is clear to you and you have all the requirements of the client to be completed. But how will be able to do it, if you don't have the right developers in your team, by that we mean the right expertise? Hiring dedicated developers can ease your burden of this, you just need to sit down with them and enquire about their expertise.
Long-term development projects
When the startup starts expanding its business, they face several technical challenges that made maintaining their commitments and extremely tiring. For an upcoming organization, such issues with performance delivery were unaffordable. A priority step for them is to fix critical issues in the code and improve its maintainability, so in long run, you require a dedicated team of developers.
Redesigning a digital solution takes a lot of time and it is quite a hectic task for any organization. From ascertaining all the project goals to review user trends and customer feedback to updating all the existing features requires strategic planning and the right expertise. So, as your dedicated team works on different technologies and practices and they do their best to bring the best of a solution when it comes to redesigning it.
How B2C Info Solutions can help you with dedicated resources?
B2C Info solutions offer a dedicated team of developers with proven industry experience and expertise in software development and the team is always to explore new areas and industries.
For dedicated resources, we have different models on an hourly basis, weekly and monthly basis. You can connect with our experts today at info@b2cinfosolutions to know more.