Things that you need to consider before developing Mental Health App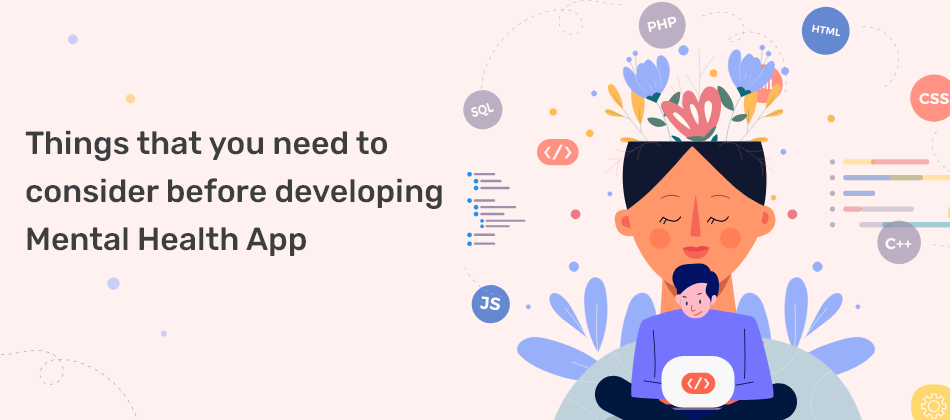 Key aspects that you need to know before developing Mental Health App
With the changing trends, mental health has become a major topic across the globe. The pandemic outbreak has surely added to the stress we live under and are now gaining quite attention.
It is a really good thing to look that more and more people are talking about it, but the consequences of mental health are still much underestimated.
Mental Health Apps are becoming really lifesavers for both patients and medical professionals. Many renowned organizations are looking for the right tech team for Reliable app development services.
In this blog from the leading app development agency, we are going to discuss some key things that you must consider while developing a mental health application for your end users.
But before we move on to that let's discuss some important aspects that you know need to know.
According to Recent Research by the Anxiety and Depression Association of America reveals that 40 million adults in the united states from anxiety disorders and nearly 75% of people with mental disorders are left untreated or ignored in developing countries.
Important Features for Mental Health App Development
There are several types of mental health apps such as mood training programs, customized settings, cognitive behavior, therapies, and much more.
Here are some key features that we have shortlisted that can be implemented in Mental Health App.
Self-Monitoring
Stress-management applications are usually used by fit and healthy individuals as they track down their moods and Handle stress.
In addition to that, people with mental disorders also use applications to track their symptoms and progress. Self-monitoring is the best feature as it plays a key role in building mental healthcare apps.
Reminders
The app's ability to send tailored notifications can be a great advantage as it encourages self-screening from time to time.
Be it for relaxation, taking a break, or others, these reminders can help not just mental health but also reduces stress to a huge extent.
Social Media Sharing
This feature helps users share health updates on social networking sites to get support from friends or they can share with the third-party healthcare providers to help them keep track.
Instant Messaging
Communication within the app should be easily done via text and audio messages. This feature is highly appreciated by users who don't want to share their data and doesn't wish to a therapist loudly.
Trending Mental Health App Ideas for startups
Before you consult the top app development company, let's check out some of the best app ideas that can help to address mental issues.
Women's Healthcare App
If you are planning to develop an app that is dedicated to women's health then this app category would be a great idea for your startup.
This help in tracking the menstrual cycles of women and their mood swings. Such apps offer therapists and doctors to help women to connect with them via audio/texts.
Peaceful Sleep App
Another App that is becoming popular is the app for people who have deep trouble in having a good sleep.
Amidst this pandemic, good sleep is very essential to give proper rest to your mind, body, and soul whenever you wake to kickstart a fresh day. These apps ease your stress and anxiety by enabling users to play relaxing music and audio to get a peaceful sleep.
Meditation App
This is yet another great app idea that has gained huge attention of users, especially after this pandemic outbreak. With social distancing guidelines, these apps have a great way to overcome anxiety and boredom from not meeting and socializing with people for a long time. These apps help people reduce stress and anxiety and remove all the negativity.
Mood Tracking App
By tracking the mood and symptoms of people, these apps help in taking self-assessment tests regularly to know their current mental status. Adding features like guided meditation can be an added benefit for users looking for way to analyze themselves and understand their initial feeling. Users can also log their activities and how their moods get affected over time.
Final Words
The demand for health apps is rising with the added benefits and features they offer. Being a reliable app development company for mental health app development, we have the right expertise and technologically skilled team to stand out your business model.
Connect with us at info@b2cinfosolutions.com.