EMR VS EHR. Which one to choose for your Healthcare App Development?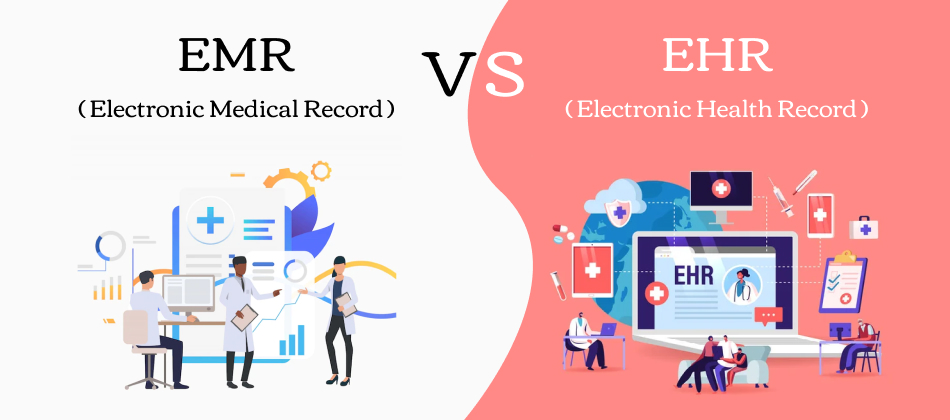 EMR VS EHR Which is beneficial for your Healthcare App Development?
There would be nothing in saying that one of the most popular industries in the economic system today is Software Development. There are numerous mobile applications available on both Android and iOS platforms.
We all use apps for a variety of things, from leisure and sports to teaching and learning. Healthcare is no exception, it joined the market smoothly and quickly to provide patients and medical professionals with high-quality healthcare services. People are no longer subjected to the inconvenience of spending an hour in line for a brief appointment with a physician.
The demand for healthcare software development is progressively growing as each day goes by. As per the recent report by Mckinsey digital innovation in the healthcare sector will increase to $350 to $400 billion by 2025.
What exactly is an EMR system in Healthcare?
EMR is a cutting-edge concept that can be very helpful for both medical experts and patients. Traditional Health records have never been completely effective, and there are numerous risks that could endanger a patient's information that is difficult to maintain without using tech. EMR is Used in multiple platforms and facilities, but the question still arises of what exactly it is, the benefits, and how do operate.
EMR stands for " Electronic Medical Records" and it is a substitute for traditional health records since it offers superior collaboration and communication between several divisions and healthcare specialists, facilitating the highest quality patient care.
Basic Information regarding your medical records such as treatment information and all the previous medical diagnosis that your doctor's clinic has recorded is typically contained in electronic Medical records. EMR offers a hub for interaction and care enhancement for all doctors.
Applications of EMR System
The center of all clinical activities in the office, EMR systems actually offer a wide range of features and interface designs. Every single day the clinic staff manages payments, insurance information and other major things with the team. EMR is applied in the following domains.
Medical information management or healthcare management systems.
Laboratory Information systems or lab monitoring systems
System for managing practices in clinics
Medical Billing
Perks of EMRs
Here are some common perks of EMRs that you must know
Saves Space: When compared to conventional patient records, which require physical intervention somewhere but EMR saves a lot of time and storage for both doctors and patients.
User-Friendly System- EMR also saves a huge amount of time as we have mentioned above but how by streamlining the workload of healthcare professionals as it enables easy access to patients' medical details with just a few normal clicks
Organizational Benefits- It's reasonable to mention that adopting all the electronic records can also be an aid in lowering the possibility of organizational challenges and functional expenses staff members won't be expected to extract the data from piles of documents and files
What is EHR in Healthcare?
EHR stands for Electronic Health Records and it refers to computerized patient charts. Now with the changing trends, more and more medical professionals are employing digital charts in place of paper ones that are often displayed to patients besides. These real-time databases are created to give all the information about a patient, including their ailments, medical issues, and prescriptions.
Applications of EHR
With EHR you can ensure that you are always giving the highest possible care and responding to the most accurate data collected by other professionals who have worked with patients by connecting with patients' previous physicians.
Perks of EHR
Now with so many infections and diseases having a complete background of a patient's medical history is always advantageous, but you might wonder what all are other benefits of EHR are. Here are some stated by our team of experts.
Enhanced Care
EHR Facilitates faster and easy access to patient information leading to better and more effective care of patients. They improve the physician service quality while also assisting with treatment efficacy. Not only have Patients had access to healthcare data, which gives them access to healthcare data, which gives them access to past medical data like blood test reports and radiology results, prescriptions, and much more.
Up-to-date Patient Data
Electronic files were initially introduced as a replacement for paper documentation to make preserving and retrieving patient data easier, but they also provide a number of other benefits.
EHR is extremely advantageous since it saves doctors from having to build from zero when a patient moves or sees a new specialist as it gives physicians a thorough foundation of the patient's medical history. EHR thus is an effective management tool that enhances the accuracy of patient data.
Integration
Medical Practices can enhance care coordination by integrating EHR with other systems, such as EMR. An EHR system that supports interoperability is crucial when patients need to see experts, manage serious illnesses like Hypertension or prepare to move into homecare for long-term care.
What you should choose for your Healthcare Business?
As we have discussed above EHR and EMR, both have their own advantages and disadvantages, and it was also important to highlight it's both aspects.
Having an interconnected platform that links to each and every point of care a patient might access is now expected when using EHR software.
Medical records kept on paper are undoubtedly inferior to electronic medical records (EMRs) but they simply fill in the gaps that exist in paper records. On the other hand, all the aforementioned features of EHR enhance a patient's clinical journey.
The selection process for medical software is way more difficult and time-consuming, much like the process for choosing any technology. However, receiving suggestions from employees who will use the program is a wonderful method to enhance your business's overall efficiency.
On the other hand, if your practice is Standalone and solely dedicated to treating a medical problem then EMR might be an uncomplicated and appropriate addition to the collection of information systems you can now manage your medical facility quite comfortably.
Wrapping Up
To sum it up, both EHR and EMR serve as the foundation of medical practice and it facilitates correct and effective data collection and processing. However, EHR adoption had surpassed EMR software. But it's totally your call.
If you are confused regarding which one to choose then experts at B2C Info Solutions are here t help you out.
To discuss it further connect with our experts at info@b2cinfosolutions.com.