Perfect Guide to develop EV Charging station Finder app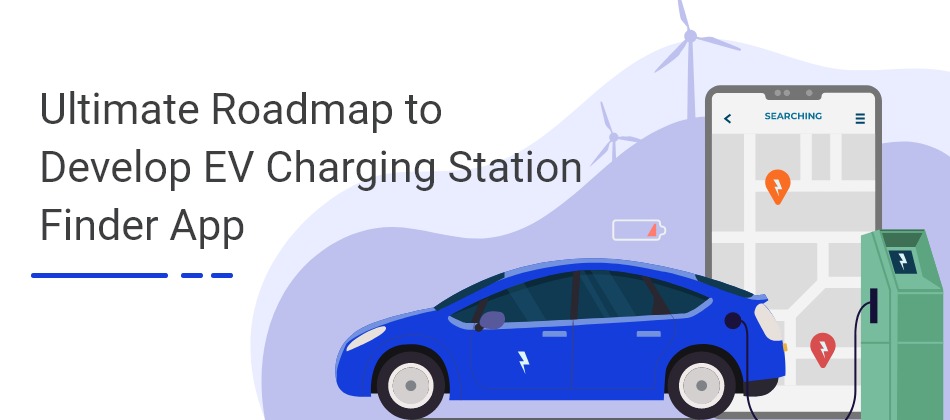 Ultimate Roadmap to Develop EV Charging Station Finder App
The arrival of electric vehicles is the most significant step towards a greener and safe environment for our future generations to come. With the constant evolution in the automotive industry, the EV market has experienced massive development for over a decade. And the growing demand for a greener environment has raised the need for creating an EV Charging station finder app.
We still have fewer electric vehicle (EV) charging stations, so businesses are developing EV charging station finder apps. By building such an app, it becomes easier for you to find the nearest station. Moreover, you can make payment directly via that app and book a charging slot beforehand.
If you want to develop such an app, you should know what it is, its functions, business model, required costs, market trends, user expectations, and more. Let's get started.
What is an Electric Vehicle (EV) Charging Station Finder App?
It's an electric vehicle station finder app that shows the nearby charging stations in a location. The app gives info like the kind of plugs required for the station's support. With this app, users get access to the real availability, images, ratings, and descriptions of the charging stations.
Moreover, these apps let users discover and add electric charging stations. And they can enable notifications, which notify them when a charging station is closer.
How does EV Charging Station App finder work?
Here is the total working EV charging station finder app.
If you are a car owner, you need to register on the app on app with your phone number, email Id, and password. Or you can sign up with social media accounts.
Once signing up, you have to enter your area or enable the Geolocation to give the app your access, it shows you the nearest charging stations.
You can browse the closer areas and check essential info about those stations such as compatible EV images, details and costs, and other relevant information.
Advance slot booking via the apps helps you check the charging level and progress in your app.
Why Invest in EV Charging station Finder App?
Investing in an EV Charging Station Finder App Development is beneficial in several ways because it is still a secure point in the marketplace with low competition.
The Global EV market is predicted to grow at a rate of 26.8% per year from 2021 to 2030. According to a report by Meticulous Research, the electric vehicle market worldwide will grow at 33.6% every year from 2020 and will cross 2.4 billion USD by 2027.
The EV Charging Stations will grow with the increase in the number of EVs. However, there is quite a low competition; the app concept is not very common. Hence, by developing an EV Charging Station Locator App, you can take up the idea and run a successful business in the near future.
Main Features of an EV Charging Station Finder App
Here are some key features that should be included in EV Charging Station Finder App.
1. Registration or Sign Up
Every new user needs to sign up with their email id, or mobile number and they can register via their social media accounts.
2. User Profile Creation
Users can edit their profiles and make changes to them in real-time. They can add their photo, vehicle number, model and their name.
3. Nearby EV Charging stations
When users enter their location, the app accesses it and it shows you all the nearby charging stations. It saves a lot of time and effort to search for this service.
4. Geolocation
An App requires accessing the user's smartphones' real-time locations to display the nearest charging stations. If you want to search for charging stations in an area, you can enter the place and see the options available.
5. Details of the station
An EV Charging Station Locator App displays relevant information about every particular service and its service facilities.
6. Slot Booking
An EV charging station locator app allows users to book a time slot for charging their cars in advance.
7. Multiple Payment Options
You can integrate the payment gateway as per your country or location. Give users the access to select from different payment methods in your app. These methods help them to pay as per their comfort. For instance you can integrate UPI, Paypal, debit &credit cards.
8. Feedback
After charging your vehicle, you can rate your experience and give your ratings to the station. It is an essential feature for a brand as it assists in improving the quality and other aspects of the charging station.
9. Push Up Notification
An EV Charging app can send notifications or alerts to update users regarding nearby EV charging stations and give reminders about the upcoming bookings and discount offers if any.
10. In-App- Navigation
This functions via GPS and uses Maps like API Google Maps. The feature enables users to find the EV charging stations in real-time on the map.
Tech Stack Required for EV charging Station App
It is very important to choose the right technology for a mobile app development project and it should be done carefully. Here is the tech stack required for EV Charging Station App.
| | |
| --- | --- |
| Front End | React JS, HTML, CSS, Vue JS |
| Back End | Node.js, python, Laravel |
| Database | MySQL, MongoDB, Redis |
| Cloud Services | AWS, Google Cloud Services |
| Payments and Analytics | Paypal, e-wallets, and Apache Flink |
Costing and Final Words
The cost to develop an EV charging station finder app majorly depends on various factors such as the development team and much more. However, with great such functionalities, we expect more EV vehicles on the road in near future. The rising demand for EVs increases the demand for station finder apps.
So if you are planning to develop a one, connect with our experts today at info@b2cinfosolutions.com.