Everything Apple Exhibited Last Week at APPLE WWDC 2021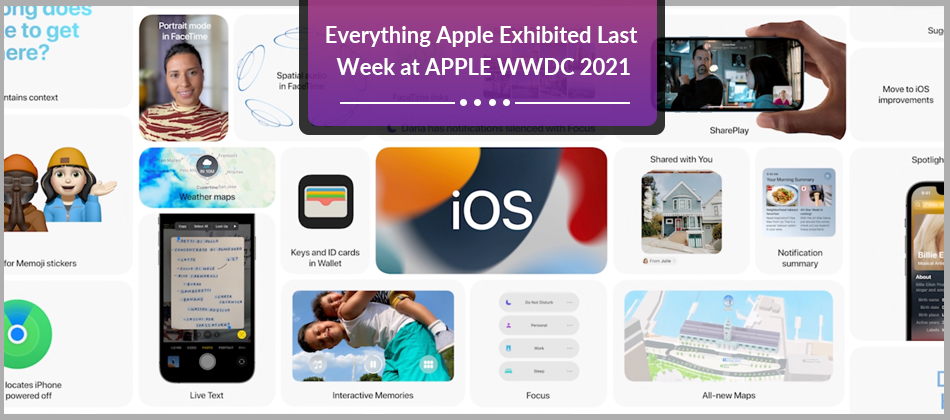 The Worldwide developers conference 2021 was surely something overhauling by the 'half-chunked fruit' tech giant.
Unsurprisingly, Apple unveiled everything from upgrades of every possible product on its bandwagon such as iPhone, Apple Watch, Mac, Home Security, iPad, & Cameras to all that the mighty iOS 15 possess to juice them up.
Aboard the ferry with us & check out the quick summaries of the wholesome of cool stuff Tim Cook revealed this time from under the hood.
Apple Betas En-Route
Following the company's trends to release the software to developers immediately after its announcements, Apple's iOS 15, Watch OS 8, macOS Monterey, and iPad OS 15 are readily available to developers today.
Read the article till last to know - How to download & install iOS 15
iOS 15 - The Upgraded Fuel
The all-new version of the iPhone's operating system is now official.
For Face-time lovers, a big chunk of improvements has been done for a more salutary experience. The inclusion of Spatial Audio for clean surround sound, Grid view to add multiple people at the same time, and Portrait mode to blur the messy backgrounds are something you will notice upfront. Besides this, individual FaceTime calls have now been made possible by Apple after being inspired by Zoom. Moreover, the newly embedded Share Time feature allows users to share their screen, music files, and much more, all in one place. However, the big slam news is that FaceTime is open to everyone including Android & Windows users through their system browsers.
Apple's unwavering message platform iMessage too is receiving some revisions. The new set of features it comprises are turning images into galleries, and positioning all of the links you've received from someone in one place. Rest all of the bugs have been fixed for a smooth experience of iMessage on Apple Music, Safari, Apple TV, and Apple Podcasts.
iOS 15 also modernizes the notification panel. Notifications now appear to be cleaner, sophisticated, and with minimal designs on the lock screen. The new focus feature enabled by Apple is easily accessible through quick settings toggle, which allows you to set different preferences for notifications. Instead of completely turning them off by pressing 'Do Not Disturb' you can now choose between the several focus required modes viz Sleeping, Driving, and Working.
As an essential part of iOS 15, the new camera improvements are truly propitious. The new feature called 'Live Text' automatically identifies and scans the text in a photograph. Another feature called 'Memories' incorporates AI & ML to combine all your clicks into galleries while adding Music from Apple Music simultaneously. Likewise, Apple's new Wallet App obtainable through the camera now includes corporate badges with keys to hotels, houses, and cars via smart home peculiarities.
Furthermore, Apple's revamped Maps software with 3D data is pretty nifty. Better city details, road conditions, turning lanes, everything is so much easier to conceive in real-time with a foot-on accelerator.
At last, for all the Air Pods bearers, Apple has finally introduced a 'Conversation Boost' mode, which helps in understanding the person you are speaking to more clearly. Basically, it cancels the ambient background noise even in a loud environment, and Siri will read out every important word for you.
Watch OS 8 - Literally Everything On Your Wrist
The most awaited Apple Watch system upgrade is finally on our couch. Watch OS 8, a modernly crafted watch software by Apple brings you a pack of exciting new watch faces.
Now match your outfits with them and set new standards of being fashionably cool. Not enough? The new OS also lets you play tap tap messaging. A cute mini keyboard is enabled to send full-fledged typed messages from your watch's screen.
And how can Apple forget the fitness community here? Just for them, new workout modes are added, with a special app named Mindfulness, which helps you monitor your breathing rate while you are asleep. Moreover, new workouts featuring Leith Urban, Lady Gaga & more are ready to be with you 24x7 via the new Spotlight series.
Homepod Mini - A New Face For Stereo Speakers
With this new update, the Homepod mini is not so mini now. Earlier, users were restricted to ask their Homepod mini to play only music or movie on Apple TV, like - "Hey Siri, play Maroon 5" on Apple TV. But now, the Homepod Mini can be hooked into the apple TV as stereo speakers for a more vibrant experience. This feature was previously introduced to the Homepod original and is now coming to the mini as well.
Mac OS Monterey - True Innovation
Most of us would have seen Tony Stark aka the Iron Man scrolling a single piece of content through multiple wide screens, and imagined when will we be able to taste this tech!
Well now, in the WWDC 2021, Apple has finally introduced this feature via a new version of Mac OS called Monterey. This California beach town named update for Mac OS brings some really nifty features for everyone including 'Universal Control'.
With the help of Universal Control, one can use a single mouse and keyboard to criss-cross through multiple apple devices at the same time. Simply place your Mac, iPad, and iPhone all together in an aligned manner, and the sync is done to enjoy.
Also, for the first time, iOS devices can be cast to Mac screens via Airplay. Additionally, the Safari Browser has also received a revamped including features such as tab grouping, tab bookmarking, and easy shortcuts on Mac.
How to download & install iOS 15?
As of now, iOS 15 is only available as a preview beta release for developers. Apple will make beta updates available automatically to registered developers once the profile is installed in the Apple Developer Centre. Since iOS 15 is an early release software, there could be bugs or issues. It is recommended to install it on a secondary device.
Being in the testing period, for now, iOS 15 will last under Apple's refine and bugs fixation centre till it is optimized enough to go aboard. Developers will also be allowed to use the beta testing period to contribute to the new operating system by building new features for applications.
A public beta will be available very soon in July for testing here at beta.apple.com
iOS 15 will be released to all compatible devices between September to November, where users will be able to download it via the software update section on their devices.