Factors that you need to consider for successful DevOps Implementation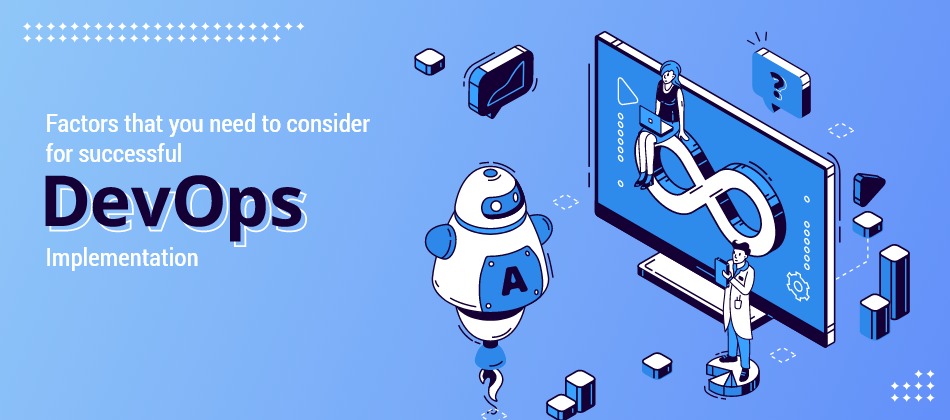 Key Factors that you need to consider for successful DevOps Implementation
We evolve every single day, isn't it? Every enterprise solution out there employs imaginative ways and influences the tech world and software procedure to stand out from all the competition. One such method is DevOps Implementation which has taken things to the next level.
Normally, for any business to become digital-first, leveraging DevOps best working on using continuous and constant integration of software is the awesome and quickest method to achieve quick releases and launch in the market asap.
The DevOps methods encourage expanded collaboration among development and operational activities, subsequently guaranteeing a superior infrastructure for quick release as CI (Continuous Integration) and CD (Continuous Development) go altogether with CI/CD pipelines designated. Experts from B2C Info Solutions and being a perfect place to Hire DevOps Engineers while adopting DevOps Methodologies.
Make sure you read it till the end.
#Set Clear Objectives with Business Targets
DevOps Implementation Synchronizes people, processes, and tools, the first thing to keep in mind while implementing DevOps implementation is to assign the right person who should be engaged with the proper tool. After finalizing the right people, process, and tool, the business processes ought to be kept in line with the goal with purpose, and objective of your business. Nonetheless, it is very important to make your partners update your clear goals and get them aligned with your development process. It is undoubtedly to take assistance from a reliable tech partner for DevOps updates at regular intervals.
#keep a Track of CI/CD pipelines
Regular Monitoring of CI/CD pipelines is vital for successful business changes. There are various DevOps tools such as DevOps monitoring, DevOps alerting and DevOps perception assists organizations to observe and identify failures. A large portion of DevOps tools functions with each framework like Cloud, Containerized and on-Premise thusly, it guarantees a smooth DevOps transformation. Powerful Utilization of the DevOps monitoring tools will make an effective and solid monitoring system and will empower teams to further develop the software's quality.
#Leverage the power of Automation and Technologies
To effectively take the advantage of digital transformation in business, you need to utilize automation tools and innovations. Automation is the utmost necessity for implementing DevOps implementation and quicker launch to the market. There are several DevOps automation devices available in the market that any size of business can leverage based on their requirements. Automation guarantees precision, consistency and extends the number of releases with the end objective to make more deliveries in quick succession of time.
#Measure the consistency of DevOps Implementation
A calculative target of DevOps is to convey quicker production and implementation of DevOps execution constantly keeping the track of things moving as per the planning and requirements. The four key measurements are lead time, Deployment recurrence, and mean time to repair should be done by an authorized person to survey by and large DevOps execution. These measurements out and out assist with deciding the team's software delivery execution and the DevOps implementation team can explore different methods regarding the methodologies and can gauge the effect of utilizing these exhibition-based measurements.
#Implement Feedback Mechanism
Today, many organizations are attempting to provide software that fulfills their requirements and for this, the software should be Client-centric. However, it is crucial for the business to know whether the deployed software is set up to the mark to meet the client's necessities or not. DevOps has the solution for that also. It is empowered by a ceases feedback mechanism and as teams work cooperatively with product owners, QA teams, designers, and operations teams to get the necessary information more swiftly.
The right time to market is crucial
The present organizations need quicker and quality deliveries for which embracing the DevOps procedure helps in going to market quicker. As any new software is developed, new highlights ought to be delivered to market all the habitually and DevOps CI/CD cycles alongside utilizing the most advanced automation tools to assist with quicker deliveries and guaranteed to be launched in the market as soon as you can.
Final Words
It is very clear that DevOps Implementation in business can do wonders. But surely demands long-term commitments and an experienced tech team and the perfect place to Hire DevOps Engineers to provide solutions as per requirements or needs. Bring Engineers from B2C Info Solutions and get solutions that exceed your digital and technical expertise.