How much Does It Costs to Develop a Video Streaming Mobile App?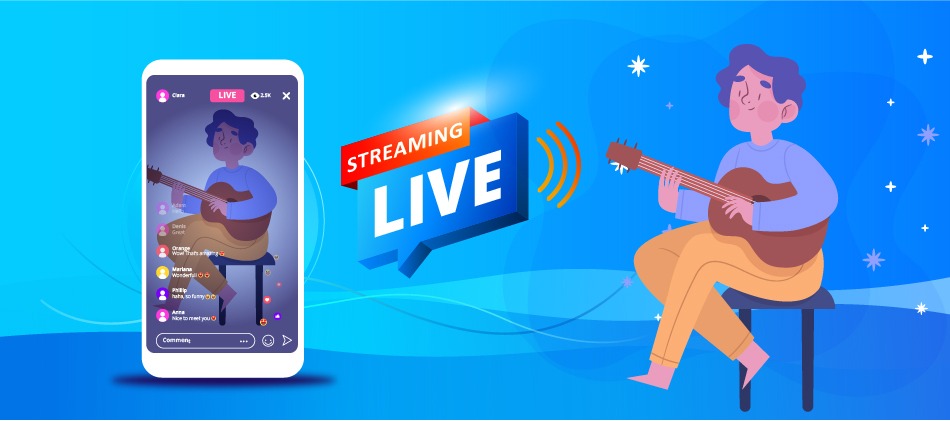 What does it cost to develop a video Streaming Mobile App?
Times have certainly changed when Television was the source of entertainment, video streaming apps have changed the entire complexion of watching your favorite movies and TV shows. Professional Video streaming mobile app Development Company like us has attracted many renowned names of the industry to name a few ZEE, Amazon. They managed to increase customer engagement and meet all their sales objectives.

These video streaming platforms offer all the latest films, TV serials, and even cartoons for kids with monthly paid subscriptions. A recent report revealed that around 155 million people will be using it at the end of this year. Despite being the paid services these are leaving behind the TV and free streaming services.

Don't get amazed by these surprising figures as you can avail best development services from an experienced and skilled Video Streaming Mobile App Development Company. This is indeed a billion-dollar business with a bright future and ever-growing demand. And if you thinking of developing a video streaming app to provide the best quality entertainment to your viewers then the first that strikes your mind how much does it costs to develop a video streaming app?
Well if you are looking for the simplest and sorted answer to that question then you are the right spot. Read the full blog below.
But before we on it's costing as leading Video Streaming Mobile App Development Company we provide you some solid reasons to have a video streaming for your business. Here are some to mention:
- The content on video streaming apps is definitely of a higher value.
- The choice and timing of the video contain depend on the user.
- An engaging video streaming app lets consumers view upcoming content when they are watching or a TV serial.
Popular Live Video Streaming and OTT Applications
Live Streaming Apps OTT Applications
1. Livestream 1. Amazon Prime
2. Facebook Live 2. Netflix
3. Broadcast me 3. Hulu
4. Instagram Live 4. ZEE5
Must-have Features in your video streaming app
With the changing trends, we have seen the emergence of video streaming apps and several brands are emerging in the live streaming app market. However, if you are planning to build your video streaming app, then you should ask your Video streaming App Development Company regarding the following must-have features in your app.
Video sharing through your video streaming app, You must make sure that you share live TV Videos as well from all other possible sources making the experience truly rewarding and Content-rich.

1. Social Media Integration- Once you integrate social media accounts like Facebook, Linkedin, Youtube others so that you can directly share your video with your followers on the app. Another great use of this feature is all the videos on various social media profiles including Facebook, Instagram, and among others can be shared directly on a single platform i.e. your video streaming app.

2. Live Video Streaming App- Live video streaming can be an exciting activity especially when you do from your mobile application. Make sure that you incorporate this feature in the app for viewers to witness the same fun you are having.

3. Push Up Notifications- The magic of push up notification we already have mentioned in other on-demand apps, healthcare apps, and business owners are well familiar with that. When the push-up notifications have been crafted well and targeted to the right kind of audience, they can be a great way to reach out to the customers, engage them and even attract them to make a move that is looking for.

4. Subscriptions- This is a great way to keep your viewers interested while making money at the same time. Offer users subscriptions of varying levels that allow them to get a continuous stream of content and even some of the content if they want to.

5. Comprehensive Dashboard- This more than an app to the owner. This would let the admin to manage different users, different shows, content on the app, manage glitches, manage earnings, and control the whole operations of the app.

6. Reviews and Ratings- Allowing users to rate and review the content shared on the video streaming app helps in increasing customer engagement and time spent with the mobility solution. The users can easily go through the ratings and reviews received by different videos or contributors before they decide to watch, download, or skip it altogether.

7. Local Storage- Since Your Video Streaming app is going to e used extensively by the users on their mobile devices, Ipads and are probably going to depend on the availability of the network or bandwidth, you must provide them an offer to save and store the content on their respective devices. This gives users the accessibility to view their favorite movie or TV series when there is a good network connection.

Factors affecting the cost of video streaming app

Video Streaming apps like Netflix, Amazon Prime may require heavy backend infrastructure and support for the continuous data streaming without disruption for better user experience.

Some of the factors that have an impact on the cost of developing a video streaming app are discussed below:

1. App Features- This is simply the more features to the app, the more would be the cost of the app. When you are planning to commence your video streaming app then it is better to go with the app with core features. The second round of the features can be added in the later version of the app.

2. App Design- An app that is a complex design would not be appreciated by the viewers. If you want more people to use your app then it is better to go with simple and engaging UI/UX.

3. The platform for the app- The cost of the app a lot depends on the platform decided for the app. There is a massive cost difference between the Android and iOS platform

4. Location and experience level of Development Team- The experience level and fee charged by the video streaming app development Company. This means you have to carefully examine and analyze the experience level of the developers before outsourcing the project. One wrong decision can lead to disasters thus it is better to analyze the clients, feedbacks, projects, and industry before moving further.

How much exactly does it cost to develop a video streaming app?
The costs vary widely according to your choice of development and the platform you decided for it. While custom mobile app development for your video stream app might cost thousands of dollars however a fully-featured mobile video streaming app will costs you around 10,000 USD to 35,000 USD. As we mentioned above, the cost may vary according to factors like development, App design, etc.
Conclusion
The mobile trend is booming in this digital world with numerous opportunities and a wide audience. Investing in a video streaming app is a wise way to bring your business next level. So be a partner with the professional video streaming app Development Company for a strong live streaming strategy.