How to finalize the right Cloud Partner for Fintech Business?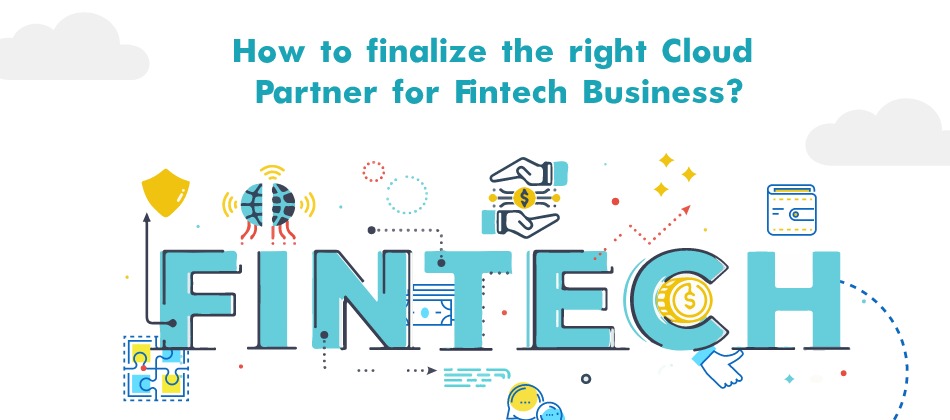 How to choose the right cloud platform for fintech business?
The adoption of Cloud Technology is witnessed in many industries and domains. In comparison to other major industries, the adoption of cloud technologies in fintech has been quite slow. To cope up with the growing competition, now fintech is also switching from now experimentation to implementation.
A recent study revealed that nearly 87% of global IT specialists believe that pandemic is leading organizations towards the cloud. But there are many cloud platforms available in the market so this makes it more difficult for Fintech owners to finalize the best one out of so many options. And if you are among the same then this blog from a leading fintech app Development Company i.e. B2C Info Solutions provides relevant information that would help you to finalize the platform for your fintech business.
Cloud is the future of Fintech Business
The debate to adopt advanced technologies in fintech is never going to end. But Covid-19 pandemic had left decision-makers with no option. They need to move fast forward and adopt the technologies for ultimate survival.
Today, fintech is rapidly adopting cloud technologies for their endless benefits and usages.
Adoption of Cloud Services in the Fintech Industry
Like any other sector, fintech soon realized that they need to be agile so that they can future-ready. Cloud Computing is no longer confined to cloud-based platforms but it also paves the way for the fintech industry in various aspects such as:
Interacting with potential customers
Generate revenue and allow partner collaboration
What are some perks of cloud computing for Fintech Business?
Adapting to any new technology is not easy that seems, and improper execution enhances the risks and challenges. But moving to the cloud is way better than not doing anything. But it can be a great option for the future. Here are some key benefits for Fintech Business:
Enhanced customer experience via AI, ML, and process automation
Agility to produce goods and services swiftly.
Access to bulk data with connected devices for effective decision making
Cope up with the ever-growing need for more innovative solutions.
Sorting out all the big databases and additional applications
How Cloud Technology is transforming Fintech Industry?
Cloud is the future of fintech, how we can say that. Here are some points that will support this statement.
Data Management
The fintech statistics is too complex which is shared worldwide. Cloud technologies allow fintech firms to store and manage data in a safe and secure way. Not only has that AI (Artificial intelligence) enabled from fraud segments also.
Security
According to a recent report, around 42 percent of financial services firms lack the capability to provide data security making it a major concern. Cloud technologies provide the same level of security as traditional models if gets properly implemented.
Seamless Cloud Migration
Some companies opt for a hybrid model allowing the existing technologies and methodologies to collaborate seamlessly, while few opt for the cloud to deploy sandboxes to enhance the customer experience of new services.
Decreased overall Maintenance cost
Cloud technologies owned by third-party service providers reduce overall operational and implementation costs associated with server or data management plus security. Cloud technologies have now become a key for businesses located worldwide.
Which is the best cloud platform for Fintech?
AWS for fintech. Why?
Fintech has the added advantage of building cutting-edge technologies such as the cloud as they do possess any legacy system. Already many fintech enterprises are leveraging the benefits of the AWS Platform, due to low operational costs and several other benefits mentioned above.
If you are planning to move on the cloud platform then here are the top three reasons why you should finalize AWS.
Seamless and Safe Transaction backups: The bankingand finance industry is all about transactions. And that data, which are generated through the transactions have to be securely retrieved for future purposes. The database of the transactions has to be stored complying with other geographical locations . Along with highly secure and fault-tolerant backups and DR is one of the most used case platforms like AWS. As a Fintech, you need not worry about the long procurement and provisioning cycles of data centers for backup.
One-click Regulation and Compliance- On the AWS Cloud, security is a premium priority. AWS users benefit from the data center and network 7architecture built to meet the requirements of most security organizations. Additionally, to maintain security and data protection in the cloud, AWS provides cloud formation which would provide greater results.
Enhanced Performance- Most of the fintech enterprises are mostly consumer-facing which means B2C ones. To meet such ever-evolving demands, it ensures consistent performance and decreases spikes to maintain the quality performance even during those tough situations.
24 Hours availability- With the ever-rising demand for mobile phones, it is quite evident that fintech services need to be active for 24 hours and 7 days a week, just to ensure that customers can access it anywhere, anytime. Fintech companies can ensure that their apps are running on optimal performance.
Final Words
With such impeccable qualities along with comprehensive software development lifecycle support right from development to deployment, AWS is a perfect match for all your cloud needs.
To know more insights about AWS connect with our experts at info@b2cinfosolutions.com.