Why do IoT Projects fail and how do over 40% Succeed?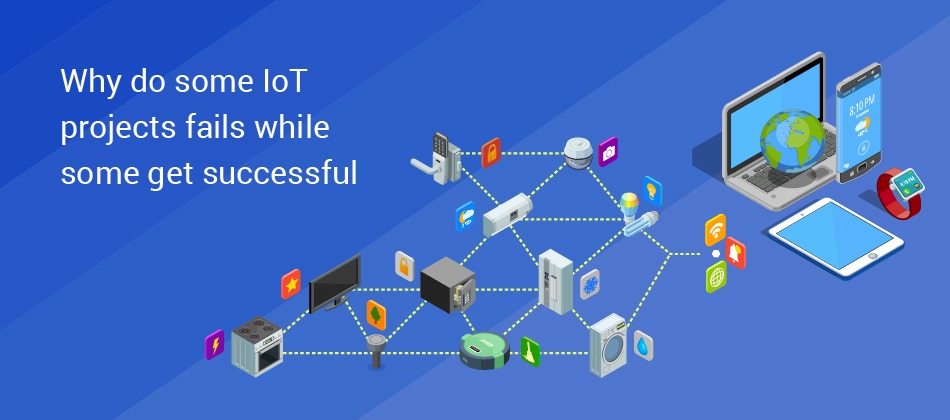 Why do IoT projects fail?
IoT is transforming the lifestyle of people and smart devices have been connecting faster people the past couple of years. A recent study estimates that there would be more than 41 billion Internet of things (IoT) connected devices by 2025. But the figures show that there are many IoT projects which gets fail.
This is partly due to hiring an unprofessional IoT app development Company. In this article, we look at why IoT projects get failed so constantly and how we can ensure their success. Let's start
IoT projects are a lot more different than other IT projects in terms of its development process, complexity, and outsourcing the project to inexperienced IoT App Development services provider. This inability to comprehend leads to the failure of IoT projects. Here is a list of some of the common projects that leads to behind the failure of IoT projects.
Organizational Culture- Stakeholder Engagement is crucial to the success It projects and the same goes for IoT projects. It is more important to engage with stakeholders as IoT is a new technology and not understood completely. Employees feel nervous regarding the project and this leads to half-heartened efforts which is one of the main reasons for failure.
Lack of Skilled Professionals- IoT is relatively a new technology and it is very hard to find experts who are experienced in planning, developing, and executing customized IoT app solutions. It is often observed that the organization uses the existing talent by upgrading their skills for IoT projects. This leads to the complete failure of the project.
Lack of Planning and strategy-Organization must have a clear documented strategy for each step of the project right from planning, execution, and development. For instance, companies don't commence the development process with the use of an exhaustive list of cases, requirements, and do not able to meet the marketing demands.
Ignorance of Latest Studies-IOT Technology keeps on changing every single day. IoT Companies are rolling out new products- hardware and software as well to address the consumer pain points. Companies often ignore the usage of the latest technology to achieve better outcomes at a lesser cost.
Lack of Readiness-A project assessment must be taken well before commencing the IoT projects. Most of the organizations often fail to stock their technical commitments and skilled employees, and these are not incorporated in the project plan if IoT app development Company continues its operations without proper planning then this will certainly lead to failure of the project.
Cyber Security-Most of the companies are concerned about IoT Security. Projects fail because of data web servers, the communication aspect is taken into the planning phase. Later on, these projects get cancel due to the high-cost incurrence.
What can be done to make them successful
IoT uses apply across several business verticals from retail to healthcare and supply chain. Companies are eager to adopt IoT to improve efficiency without compromising on quality. Many businesses are rolling out for IT solutions to meet the rising demands of the customers. To take full the advantage of these companies can be the following tips that will help them to approach the projects in a structured and planned manner.
Change the Mindset
IoT Projects can change the organization's work culture, ethics, and values. Before embarking on an IoT project all the stakeholders should be prepared to change their operational efficiency. It is the responsibility of the management and gives them a proper deadline for these projects. The outcome of the projects must be defined very clearly and must align with the overall business goal. Ideally, IoT projects must be driven with real business needs, so that the client gets the best possible app solution within the promised time frame.
Detailed Planning
The very initial step towards the project is detailed documentation planning. It is advisable to kick off the project with a discovery phase where new ideas should be welcomed, customer expectations, and organizational capabilities.
Feasible Documented Strategy
If planning is all about what is required to be done, and the strategy is how they need to be done. The most important thing is to have a strategy that is well documented. Having a proper strategically documented strategy helps to rack your team's performance later on.
Long term Commitments
IoT projects are long term commitments business needs to things of the year, not just months. With IoT technology changing every single day it is a real danger that the solution might become outdated. Therefore, it is essential to have a far-sighted strategy that changes as per the technological advancements.
Use of AI (Artificial Intelligence) in IoT
The combination of Artificial intelligence and IoT to improve the efficiency of the project is known as IoT artificial Intelligence of things (lot). IoT devices can generate an excellent amount of data without knowing what to do with this.
Integrating data collection with AI can help understand which data needs to collected and reap the benefits of analytics of machine learning and big data technologies.
Conclusion
More and More devices are connecting to create an impact on the internet of things that produce data to improve the way people's life and work style. To create successful IoT project businesses need to take a strategized approach right from the inception.