Low Code or No Coding Future of Mobile App Development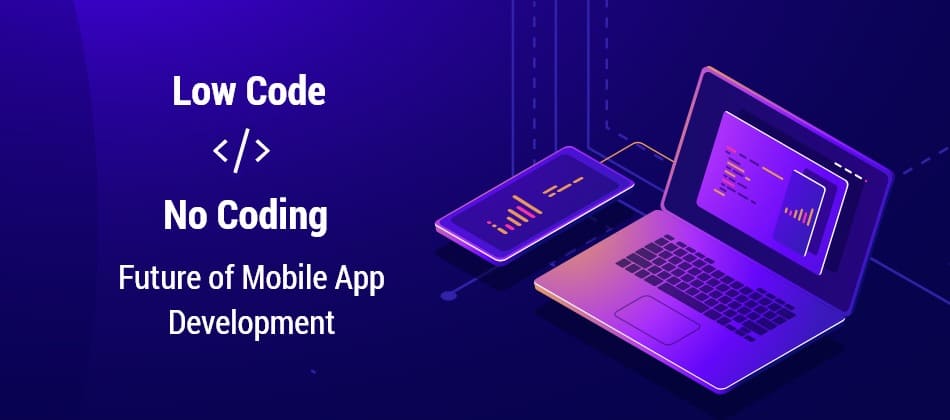 No Code Or Low Coding is the Future of App Development
The digital space is growing exponentially every single day and the development is already taking place to enhance technology possibilities for human beings. If you are a tech geek or person working in the IT industry then you must have heard of the phrase "no code or low code in the app development industry"
With the world focusing on contactless delivery of products and services, there is a sudden increase in customer-oriented mobile applications though there are many businesses and enterprises that are still planning to have a mobile app.
Have you ever wondered what most businesses' mobile app fails to do? There could be multiple reasons behind it such as the development budget. Businesses often get confused in hiring an entire team or outsourcing the project to a top mobile app development company.
What if your in-house team can work on the new app development without giving it too much time or without having a customized structure that suits your requirement? Seems perfect for your business right?
Low Code No Code development is a perfect answer
What exactly is Low code no Code Development?
Cut to the chase, low code or no-code platforms enables businesses to develop applications through visual development approach instead of following an alternative way to develop mobile applications
If executed well both low code app development and no-code software development can be very fruitful for your business. Here is a separate definition for both.
Low Code Development- It is a modular development approach that carefully examines and picks and connects code blocks for building a mobile application or website with supreme functionality.
No-Code Development- It is extremely favorable for the non-developers, no-code development makes use of a drag and drop procedure that requires possibly no prior coding experience or knowledge.
By blending both Development options, a business can achieve its goal with little or no time invested in the entire process. The major perks of having a low code development in action include the following factors:
While building your website, you can easily have a view of your current production.
Low Code development includes multilayer security features that make it absolute bliss in terms of security.
With the help of low code development platforms, you can easily build AI-powered Applications that were once only possible with an experienced team.
Major Challenges addressed by Low Code No Code Development
Like with everything in this world, Low-code No code Development brings some challenges as well. Here are some
Bandwidth- Your in-house team is generally working every single day and sets a priority list to be done on a particular day. Due to this reason, they have very less time to work on all new applications could be gross.
Low code no-code development decreases the development time and provides developers more time to focus on their regular work.
App Development Cost- Hiring a specific team for your development needs can be an expensive thing whereas as A code mobile developer it can also be costly stuff.
Development Time-With the preset Code Blocks, it takes very less time in developing everything from scratch. The regular development options are slow & complex driven resulting in delayed outputs
Reasons to Go for Low Code and No-Code Development
Enhanced Agility- Experts believe that low code software development defines the future of business agility. It certainly to modify internal software solutions; it can gradually help all the non-coders to fill loopholes and enhances workflow.
Increased Productivity- With low code or no code you can easily skip the technical coding part and contribute to better collaboration within the team, it may be any team and saves a lot of time and enhances productivity.
High Customer Experience- With a range of prebuilt design templates and interface options, there's a fair to have better interactions with your target audience.
Effective Management- Changes are one thing that is constant and low code development is done for the same. It is quite the same as an easy update.
Final Words
With several mobile development platforms, you should have a confused state of mind on choosing the best suited and here you should think, about what a business should opt for.
If you are a company are looking to develop an app a basic no fancy and zero customization app then low code and code can be your perfect choice surely it is the future app development but if require a mobile app with advanced features and all then you should go native or React Native app development.
To know more about it connect with our experts at info@b2cinfosolutions.com.