Major Takeaways/ Announcements from WWDC 2022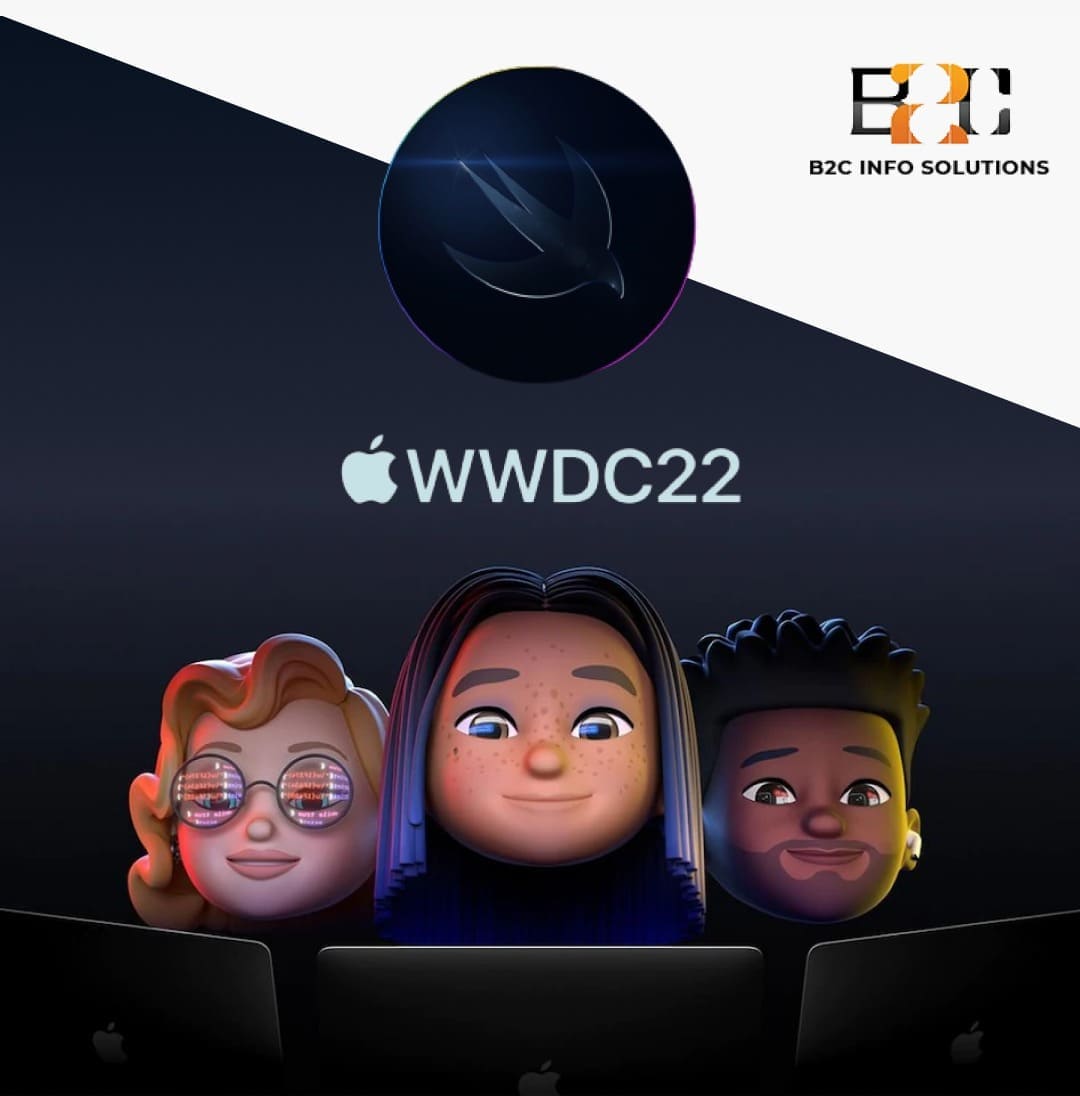 Key takeaways from Apple's WWDC 2022
The most anticipated event of Apple WWDC 2022 was conducted by the tech giant.
Every year the company kicks off the event with back-to-back announcements mainly covering things from iOS to WatchOS and sometimes hardware updates as well.
You were busy with your work? No worries, B2C Info Solutions brings to you key takeaways from the event.
iOS 16
The locks screen is getting an overhaul enabling more customization, plus additional support from widgets, including third-party apps. All the important notifications will roll out right from the bottom "API will let developers update notifications in real-time.
Live Text will be able to translate and replace text it detects in the photo, enabling you more easily read through something like a menu in a particular language you don't know.
Car Play is also getting massive buzz. The company is aiming to look to take over the whole Car's Instrumental Cluster and will support things like fuel gauges, AC control, etc. The companies promised major announcements for this "later this year".
Ipad will get a new desktop-style window management feature known as " Stage Manager" letting multiple windows overlap apps on-screen altogether.
Apple Watch
Four new faces Astronomy, Lunar, Playtime, and Metropolitan
Apple watch will be able to track a few new running metrics including oscillation, stride length, and ground contact time.
The fitness app on iOS will now be available for those who don't have Apple Watch, so everyone can have those close rings.
Sleep Tracking will use the heart monitor and accelerator to determine how much time is spent in sleep stages.
M2
Apple revolutionized the industry with the introduction of its bespoke M1 chipset that combines great performance with wild power efficiency. It is too fast.
New Macbooks and Air Pros
The company announced an all-new Macbook and Air Pros with a sleek design that comes at just 11.3 mm thick.
It's got a 13.6" liquid retina display. TouchID is built into the keyboard and Magsafe support as well. Apple claims it is offering a slim charger with 2 USB ports and that the new Macbook Airs will support fast charging to get the battery to 50% with 30 minutes of charging.
macOS
The next major release for macOS is called "mac OS Ventura". Here are the main points for this.
"Stage Manager" mentioned above is also pitched for this as it allows focus on one or two apps at a time. You can "Group" running apps together; tapping into the group will minimize other apps.
Spotlight is getting a bit of an overhaul, it'll be able to pull rich results into a new scrolling view and allow you to take things rapidly.
The Mall app is getting support for undo send, scheduled send, and timed reminders.
Want to stay updated with the tech world? Just follow B2C Info Solutions bringing you a daily dose of tech updates.