Major Announcements made at Google I/O 2022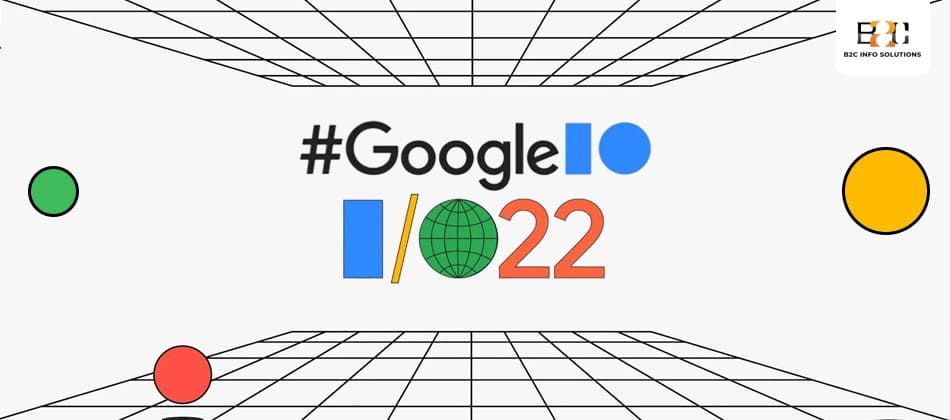 All the key announcements made at Google I/O 2022
Google I/O is an annual event that Google Conducts to announce its biggest software changes and updates. The event took place from May 11 to May 12 and bought some significant changes.
Here are some notable things that the event covered for Android Developers.
- All new features to make Android development more swift
- Improvements for wearable digital solutions and advancements for big screens as well.
- A completely changed Google Wallet.
- More changes to the Android Studio and Jetpack Compose
Continue reading this blog prepared by the experts at B2C Info Solutions to make your Next Android project a great success.
Takeaways from for Developers at Google I/O 2022
Google I/O has always been a developers-focused event. Here are some takeaways from the event that every developer should check.
1. Android Beta 13
Now, the second Android 13 beta is also available. You can prepare your applications with more recent privacy and security features such as increased permissions for pairing with handy devices and using media files, the privacy of safeguarding photo selectors, and the new notification permission. You can make your mobile application more robust with features like themed app icons and app-specific language assistance.
2. Jetpack Compose
Google launched jetpack Compose 1.2 Beta which addresses one of the most common bugs by the addition of adjustable parameters. It allows more accurate text alignment within a layout, this is the reason why Google Suggests setting this value to improper. Jetpack compose 1.2 also launched downloadable fonts, it helps you explore Google fonts reversely. You can also decide on Fallback fonts with an easy setup.
3. Android Studio
Google also announced some new advancements to the toolset used for Android App Development. Here is android Studio Electric Eel, which is in beta. The Android Studio Dolphin enables developers to check how frequently compassable can recompose with Layout Inspector.
4. Flutter 3
The company launched Flutter 3 at its I/O event. The organization's cross-app development suite is growing with newly built assistance for macOS and Linux. In this, firebase integration is also added, the casual games toolkit, quicker compilation speeds on Apple Silicon Macs, and other productivity features.
5. Foldable and Bigger Screens
At the Google I/O event, the company launched Android 12L i.e. much bigger screens like that of Foldables phones and tablets. These have more screen space features like multi-tasking, columns, layouts from the system menu, and a spilled screen mode.
6. Health Connect
The biggest search engine also launched Health Connect, which is a new platform that helps to explore health data quickly and safely across all Android devices. This is Google and Samsung's first-ever collaboration, which Google Fit and Samsung are embracing. So what does Health Connect brings? It eases the connections between applications while helping users to reach more users with less effort. So, you can also smoothly write users' health and fitness information in your application. You need to download the Health Connect SDK and can you enjoy using it.
7. Firebase
At Google I/O, the firebase team debuted firebase extension events. This allows developers to improve their extension's functionality with their code. Also, new third-party extensions for payment processing search, and marketing were launched by typesense. Now you can deploy the firebase web applications developed with Angular Universal and Next JS using one command. We are expecting assistance for other web frameworks soon. Let's just hope for the best.
8. Google Wallet
Google launched its first wallet app in 2011. It underwent many changes and ultimately become Google pay in 2018. At the recent I/O 2022, Google Announced a revamped, new Google wallet bringing back the old one in the new model. Google wanted to replace the physical wallet so that the users can store their debit and credit cards without requiring a physical wallet. Currently, the company is testing this concept in the USA to help users store their delivery license digitally and share it using a QR Code or NFC.
9. Wear OS
In 2021, Samsung and Google to partner to introduce Wear OS3. It's a newly built platform that brings the most exclusives from Samsung and Google. However, it is at present exclusive to the Galaxy Watch 4 series, we expect to see more Wear OS 3-enabled watches soon, with the pixel watch being the most noteworthy one.
Final Words
With a lot of exclusive software changes and updates, Google has offered many things at I/O 2022. Now you can add the enhancements and advancements in android, flutter making the development process more convenient.