Prime Blockchain ETFs: Key Techniques to Invest in Cryptocurrency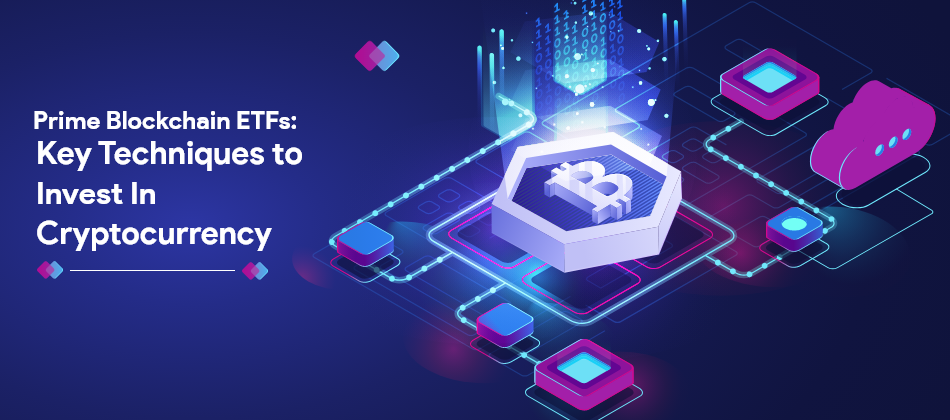 Currently, the world is buzzing with cryptocurrencies and its hype just got after few tweets from the man himself Elon Musk. Blockchain is one such technology that is considered the backbone of crypto and Bitcoin. But its application extends to various industries and services too.
Blockchain is an essential block recorded on independent computers and shared across a network. Each block of data is frozen in time or an open ledger for all the participants for quick access. Each block of data at times is open for all the participants. This feature of blockchain technology is especially useful in sectors where security is the main priority such as banking.
What is Blockchain Technology?
Blockchain Technology is a digital record of transactions that are used to prevent fraud, corruption and it makes it nearly impossible for any participating parties to manipulate information by decentralizing how data is stored. So to get a perfect Blockchain solution, be it an enterprise or startup, you need to avail top-standard Blockchain development services.
The transactions are easily accessible to all the nodes but can be alerted and encrypted in an orderly way. Blockchain app development is transforming such transactions for the future.
What exactly is Blockchain ETFs?
Well, a lot of people were asking us to elaborate on this so here we go. ETF is an investment or a product that has some underlying value. In the same manner, a Blockchain ETF is an instrument that specializes in ETF stocks of companies involved in virtual currencies, blockchain, and other crypto activities.
One of the most interesting things that one should the note is that a Blockchain ETF doesn't need to invest in the companies dealing with crypto such as Bitcoins.
To explain it in a better way, for instance when an individual buys Blockchain, ETF, he/she is buying into the assets. This means the investor had every right to gain from the growth of Blockchain ETFs. Same when they own stocks.
How do the Top Blockchain ETFs operate?
The BLCN ETF is an ETF that is passively managed and aims at reality shares Nasdaq Blockchain Economic Index Works. This index is made up of firms active in research development, support, or use of blockchain technology ETF and related Blockchain technology companies.
Each Possible Corporate stack that may be an acceptable candidate for inclusion is given a Blockchain score by the index methodology.
These factor-based techniques guarantee that a Blockchain Development Company's potential and its business are accurately measured for actual gains, renewed business possibilities and operating expenses.
How to invest in the best Blockchain ETF?
Below are some ways mentioned on how can start investing in the best blockchain ETFs.
You can directly purchase the cryptocurrencies without requiring a broker
You can participate in new offerings just like Zomato's IPO
You can purchase ETF's of firms who invest in shares.
What is the difference between Cryptocurrency and Blockchain ETFs?
Those who are interested in Crypto and shares, note there are not many Cryptocurrency that exists, so you don't have many options to purchase Crypto directly.
If you want to trade in digital currencies like Bitcoin, then you can go through specialized Crypto exchanges such as Coinbase and Toro.
Besides Crypto trading, investors can participate in the emergence of Blockchain Technology through Blockchain ETFs. Do remember one thing Blockchain is the backbone of emerging Cryptocurrencies.
Top Blockchain ETFs
This niche of the ETF market is still uncrowded, with only a few main people in the space. Since there are not so many Blockchain companies, most of the holdings in this tend to overlap with other ETFs in the market.
Here are some Blockchain ETFs highlighted by our team of experts:
Amplify Transformational Data Sharing ETF (BLOK)- BLOK is the most prominent Blockchain ETF with $1.2 billion in assets under management.
Siren Nasdaq NexGen Economy ETF (BLCN)- BLCN was launched in January this year and has 312 Million in assets under management. The fund tracks an index of global companies devoting material resources to develop and support advanced blockchain technology.
First Trust Index Innovation Transaction and Process ETF (LEGR)- LEGR offers exposure to the global portfolio of companies with varying degrees of involvement in the blockchain. The fund launched in January 2018. It has about $112 million in assets under management.
Wrapping Up
Blockchain Technology is not only changing the complexion of bank/financial sector but is also paving the way for different industries like supply chain management, the fashion industry, and many more.
We hope this blog from B2C info Solutions has been able to provide all the vital details regarding Blockchain ETFs and Crypto ETFs. And stay tuned for many such trending topics.
Looking for a perfect Blockchain Development Company for your next project then reach out to us at info@b2cinfosolutions.com.