Role of Artificial Intelligence in Sports explained with Real-Life Examples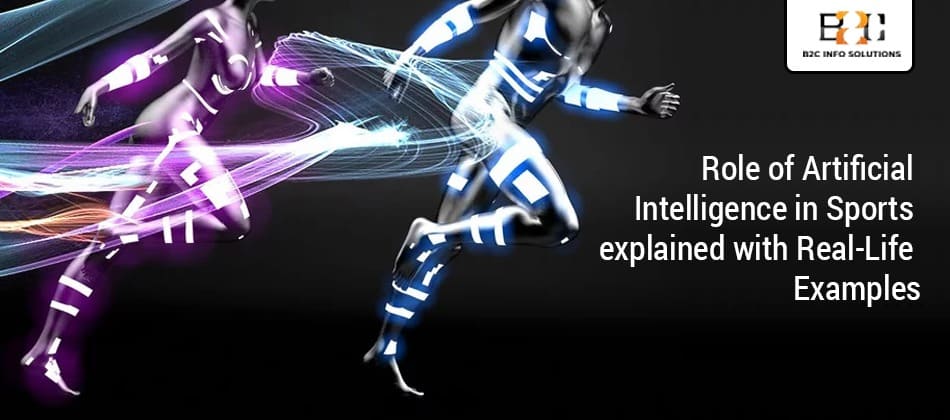 Role of AI in sports
As we are moving ahead with a technology-assisted world and we see the sports industry is taking the leverage of advanced technologies too. While statistical data had always played a very crucial role in the industry and if we are talking about then AI in Sports is completely transforming to reach more audiences.
In this blog from B2C Info Solutions, we are going to discuss how AI is completely changing the industry for good. This is going to be very interesting, so stay tuned with us.
Over the last two decades, Artificial Intelligence has completely transformed the way we consume and Analyze Sports. AI is making the world quite smarter and convenient and smarter for the athletes, broadcasters, advertisers, and at last the viewers with real-time statistics. Not to mention the role of AI in sports had improved decision-making.
The applications based on AI in sports have become a common sight even though not many experts talked about it. However, we don't limit the potential of AI when integrated into businesses and enterprises. Considering the positive Impact and precision this technology brings to the ground.
AI statistics in Sports and Gaming
As per recent studies, the global artificial Intelligence sports market was worth $1.8 billion in 2021. It is forecasted to reach $19.9 billion by the end of 2030.
Some of the great factors which are largely affecting the sports industry are Increased demand for player monitoring and tracking, the rise in demand for real analytics, and growing demand for AI for forecasts and AI predictions.
Introduction of AI in Sports
Artificial Intelligence is a universal term for advanced or smart technologies. AI Collects the information and responds to it without any manual support. The technology can take mass amounts of data and analyze it for enhanced experience and learning.
The adoption of AI and statistical modeling in sports is becoming more prominent with recent development in sports analytics. This is probably because the applicability of ML algorithms combined with Computer Processing power has made the audience hungry for new strategies and applications.
The primary objective of AI in sports is to make competitions fierce on and off the field. There are certain areas where AI and Machine Learning have left a solid print in the world of sports.
Talent Identification & Acquisition- This includes biomechanics, player performance, player recruitment, etc.
Fan and Business Management- This includes modeling for sensor and wearable design and augmented reality sports watch, measurement of players, economic value, etc.
Game Analytics- This includes match events, umpire assistance, ball tracking, and hotspots.
Training and Coaching- This includes all the tactical planning, team formation assessment, etc.
Real-Life Examples of Artificial Intelligence in Sports
Right now the sports business is at a point where it is ready to completely adopt the AI strategy and improve its decision by making performance-oriented data-driven digital solutions. Here are some real-life examples of AI in sports curated by our experts.
1. Player Performance
For this credit goes to Predictive Analysis. AI is used to boost performance and health. With the help of Wearable Technology, the athletes can gather information on strain and tear levels and can further avoid serious injuries to the players. This also helps the team to shape strong statistics and maximize their strength.
2. Personalized Training and Diet plans
AI is on track of taking over the sports industry and this has taken personalized training to a next level. An AI diet plan uses ML to customize different players based on their needs and schedule. Also not forget that AI-based fitness apps have flooded the market. These tools can now train algorithms to detect human poses in quick and real-time.
3. Ticketing
In often scenarios, fans of any sport find it really difficult to get into the stadium for the match at big events. Nothing could resolve the issue of ticketing until AI comes into play. Apart from this Predictive and Cognitive Analysis also enables fans to get an estimate of how much attendance will be at a particular event.
What is the Future of AI in Sports?
AI has already increased competitiveness by a huge margin. Now with effective sensors and algorithms, AI has all in hand for Game Strategists, sports companies, and spectators as well. With such a broad implementation, businesses are likely to invest in health and sports fitness apps. Therefore make sure that you are not too late to adopt this.
How B2C Info Solutions can help in AI Development Services?
B2C Info Solutions is a renowned app development company having a team of over 100+ technologists and 13+ years of industry expertise. And we love to work on new challenges and you can check our portfolio before discussing the project with our sales.
Connect with our experts at info@b2cinfosolutions.com.