The Right Strategies and practices for Cloud Data Migration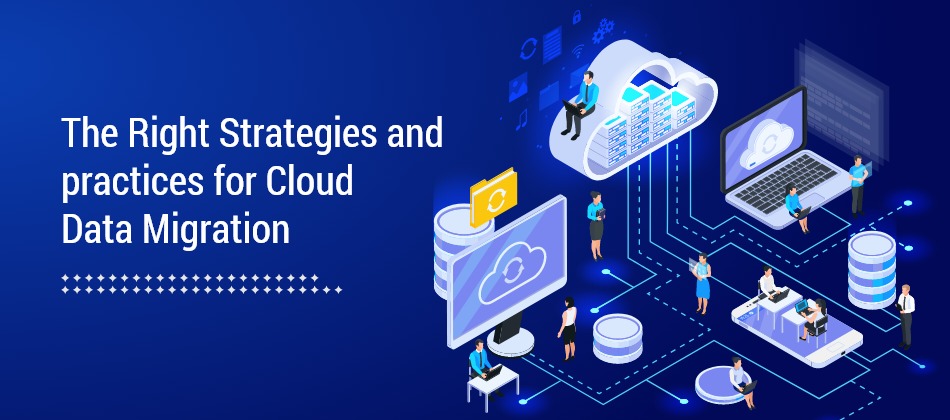 Best practices for successful Cloud Migration
Cloud migration can be a daunting task. It can be expensive, time-consuming, and complicated. But businesses or enterprise that requires scalability, agility, and security, cloud data migration is the best option. As per a recent report published by Gartner by the end of 2024, cloud spending will make up around 14% of global IT revenue. Many companies proclaim that migration is very essential for business while many face difficulty in shifting to the cloud.
Successful Cloud data migration requires a drastic shift in culture and proper planning that incorporates input from all the departments. A single error could cost you unnecessary details.
So further ado, let's get started
What exactly is Cloud Migration and why you do require it?
A cloud migration strategy is a plan that an organization curates to transfer all assets in its infrastructure that include data and applications into the cloud.
To make the operations efficient, organizations and businesses should implement a cloud migration strategy. This is very crucial for the companies which are moving their operations from existing systems to cloud computing for the very first time and current Cloud users seeking to make the most of their investment.
Adopting a data cloud migration helps businesses to identify and execute the fastest transition from on-premise to cloud. A well-planned cloud strategy also helps in determining which workload can be displaced, re-written, or kept on-premises.
Challenges of Cloud Migration
Despite several benefits, Cloud Migration offers important challenges that you need to keep in mind before you take things further. Here are some mentioned by our team of experts, do check these out.
Minimizing Disruption- Given that organizations often cite a single hour of downtime as costing $100,000. It is crucial to conduct any public cloud migration in such a way that disruption of other apps is minimized.
Security and Compliance-With the emerging trends in the world of data breaches, there is a real need for organizations to ensure that not only that the data they move to the cloud is secure, but also they comply with regulations in moving to the cloud.
Wasted Cloud Budget- It is one of the major drawbacks of the public is the service model's cost reduction compared to provisioning on-premise infrastructure, it's quite worth noting that some studies suggest that 30 percent of organizations said 30% of their budget is wasted and it can be cost-effective all depends on how you use.
Skills Gap- There is a shortage of skills of personnel capable of securing cloud environments and ensuring that cloud migration is as smooth as possible It's not enough that people who understand IT security because public cloud security requires knowledge of other platforms such as AWS and access management.
4 Best practices for Cloud Migration
Want to leverage the power of the Cloud. Here are five practices that can help in a successful migration.
Map Out a Migration Strategy- The best practice you can't ignore is to begin mapping out a migration strategy that identifies clear business motives and uses cases for moving to the cloud. So, the most advisable strategy is to migrate in phases for your business or enterprise.
Create a Cloud Governance Framework- Apart from top security and compliance, it is very critical to create a cloud governance framework with clear policy-based rules that help organizations for secure cloud adoption. Cloud Governance is an extension of the IT world that would inherit the risks of trusting data and apps to third-party services. It defines the ways of doing things tools and competencies so that the company shifting can do with minimal risk and more value to it.
Make the most of the network- The default network by the public cloud providers is the public internet. Some organizations, such as large enterprises, might worry that the internet is too slow and not secure enough to meet their business goals. If a dedicated network connection is not that important, it is still worthwhile to pursue a better, faster service from the Internet service provider given that the cloud encompasses users transitioning from accessing data or apps locally via local network connections to much slower internet connections.
Train Staff Early- Companies often cite a lack of cloud expertise or cloud skills as barriers to migration, it makes sense to train staff in your chosen cloud platforms as early as possible. As the level of the abstraction the cloud introduces and the inherently different design of public cloud systems, it might be wise to establish a series of training sessions so that you guide employees in the direction.
Final Words
This is becoming clear that if businesses of all sizes want to remain competitive, they should be looking to migrate some of their workflows to the public cloud. Actually conducting the migration in a smooth and efficient way is no small feat, though. By following these practices, your company will make it right.
Connect with our experts at info@b2cinfosolutions.com.