Top E-learning trends ahead 2020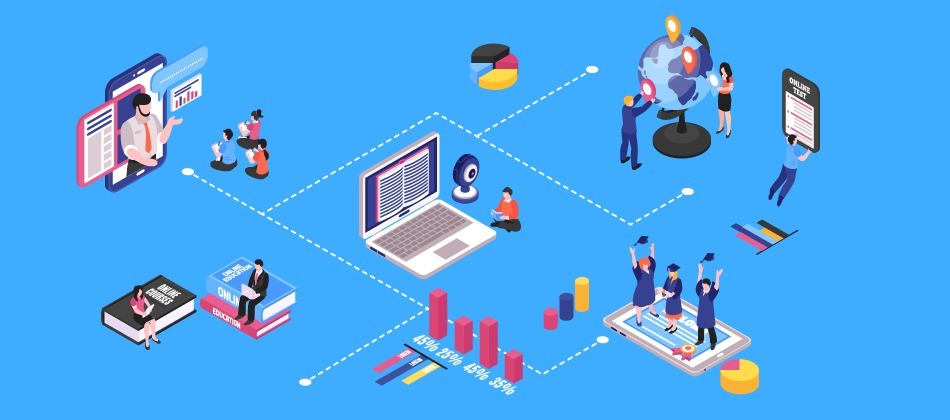 E-learning has witnessed a boom thanks to this COVID-19 Pandemic. Every parent wants their child to be skilled and make sure they continue their studies in these trying times. The debate of e-learning is still a hot topic but if we the growth of the e-learning market all together it is predicted to witness a rise of 11% by 2020. So if you are an education business owner and want to stay ahead of the competition then this blog of B2C Info Solutions is for you.
Here are some e-learning trends that can help to improve your overall productivity and adds great value to your training and development programs.
Artificial Intelligence
Learning Experience Platform (LXP)
Data Driven Experiences
AR, VR, and MR (Augmented, virtual and Mixed Reality)
Artificial Intelligence- This new advanced technology is creating an impact on the learning and development process and it will continue to grow through personalized online training experiences. AI acts as your virtual trainer that has answers for everything anywhere, anytime, and on any device. AI-Assisted Apps helps to create personalized learning and relevant with customized training paths. It also quickly analyses the consumption of learners to make further recommendations. This leads to more engaged and efficient training experiences.
It has been that AI Chatbots/ voice-enabled bots are being used by many companies as a virtual teacher and trainer. And why not it should be as it more accessible, effective, and affordable. Furthermore, these AI-powered chatbots can easily be integrated with a cloud LMS to teach learners from home and help them select the right paths as well. Thus, AI is a trend to look forward and improving your training and learning experiences ahead of 2020
Learning Experience Platform (LXP)- It is a system of the future that delivers self-directed learning with modern trends of the industry. It is more like a sharing site or content provider. It offers Content curation, social, and inclusive learning. It is well compatible with all types of content be it video, podcasts, etc.
This also provides badges and certification in completing the assessments. This can help you to generate higher ROI. Many renowned companies have already entered LXP Market to deliver effective training. Many existing service providers have introduced it to their existing systems.
Data-Driven Experiences- The past decade has witnessed power data-driven learning in many ways including such as GDPR. It's not a surprise that data is now becoming a topic of conversation in the learning and development world. Great knowledge of qualitative and quantitative data has the power to enrich designs and to empower designers to create something that fulfills individual needs.
Many companies are using learning analytics, a simple process to analyze online learning. It is quite to check where are mistakes made. It helps to adapt your training strategies. You can easily use these insights to make all the necessary changes in the program. Many companies are already using a big understanding of their customers and choosing a learning path.
AR, VR, and MR (Augmented, virtual and Mixed Reality) - These technologies were well famous last year and its usage will continue ahead this year. While it is still at its early stages these have to make a real impact. Many people have become visual learners and prefer to get immersive in the training. These technologies can be referred to the employees who want immersive training. AR enhances training materials with high-quality images to deliver a high engaging immersive experience. AR uses elements like real interactions and 360-degree photos to bring theoretical implementation into real imagination.
Many fortune companies around 500 have introduced VR in their education programs. It is now used in military and education fields. It's also used in group and internship training. With MR, your employees can easily connect with the network by both the virtual and real worlds. They can also approach and control things to better understand how things work. As the costs cut down and lead time to develop these immersive solutions, many companies will start implementing them. And with this niche VR/AR platforms and authoring tools like adobe getting into these technologies, the cost and lead time to develop these technologies are going down.
Conclusion
So this is it, all the 4 e-learning trends that you need to watch to stay ahead of your competition and deliver impactful and effective training. Other than this there are other upcoming trends like mobile, video, social, and game-based learning. But the trends listed above will sure dominate ahead 2020. We hope this article of B2C Info Solutions the top e-learning app development Company had provided you all the insights into the emerging trends and how you can use to maximize your ROI and overall organizational benefits.
Sell your solutions online and achieve all your targets with stunning digital solutions with us. To Discover more such problem-solving solutions connect with our experts today at Info@b2cinfosolutions.com