What is DICOM and its relevance in healthcare industry?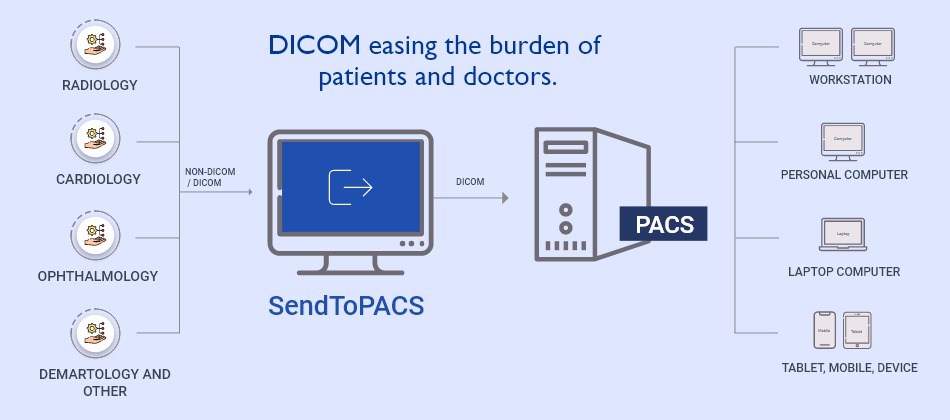 Why exactly is DICOM in healthcare and how does it work?
The hassle-free exchange of information in the healthcare sector is still a major issue for the industry. But the evolution of technology in combination with enhanced and new digital solutions is now simplifying the data exchange process for healthcare service providers and patients. Just like other data exchange protocols like HL7, there is a common standard for exchanging images between image acquisition devices and related firmly known as DICOM.
What is the meaning of DICOM?
DICOM stands for Digital Imaging and Communication in Medicine is an international standard that specifies that needs to be followed to facilitate the exchange of medical images and related in healthcare systems. It is a global system IT Standard which is used in hospitals to ensure interoperability systems that produce process and transmit information in Imaging. This was first developed in 1985 and become widely accepted in the healthcare industry in 1993.
So basically it is a system that works with image information that requires DICOM standards to operate smoothly and reflect images accurately. To make sure that you provide all the correct information to the patients you should invest in equipment and IT systems that confirm DICOM standards and cover the main areas of digital interpretation.
Image management
Image interpretation
Network Print management
Procedure management
Offline image storage management
With DICOM the diagnosis process enhances as a healthcare provider is able to access all the important images, scan swiftly and for patients to it bring a bundle of benefits such as reduction in cost and time.
Other healthcare vectors most rely on DICOM imaging for day-to-day operations that include oncology, dentistry, surgery, neurology, and pneumology.
How does DICOM work?
DICOM is updated four to five times every year or two. Currently, there are more than 200 active working groups with over 750 technical experts and medical experts using this platform. The system doesn't define the entire architecture of a system and it doesn't define the functionality of a software product. It is a file format and circle of communication protocol.
What is the use of DICOM in healthcare and why it is necessary?
It's quite obvious that DICOM assists in solving critical problems in the healthcare sector. It guarantees compliance with widely accepted regulations in the healthcare industry and provides relevant and accurate data. DICOM is much more to the healthcare industry.
Today, DICOM is used worldwide to store, exchange and transmit all medical images, enabling the integration of medical imaging devices from various manufacturers. All the patient's and doctors' data is stored in a standard format. Without this approach, it would be difficult to share data between different imaging devices as it requires the interpretation of multiple image formats.
Now with DICOM, the physicians have easier access to images and reports allowing to make an early diagnosis of life-threatening diseases from anywhere in the world. Many medical devices providers offer features that interpret DICOM and non-DICOM formats.
The DICOM Standard
DICOM standard is an ever-evolving outline of digital imaging standards and it provides a multipart document that details the history, scope, and goals of the standard. This information is available in various online formats.
How B2C Info Solutions can help with DICOM?
There are lots of medical devices that are not equipped with DICOM standards. As DICOM devices enable sharing of data to DICOM-enabled devices so if you're interested in developing any healthcare solution then integration of this system can bring more creditability to your idea.
B2C Info solutions have an industry experience of over a decade and we have a dedicated team of designers and developers that keenly listen to all your requirements and make sure that the end solution adds value to the lives of users and brings you more conversions.
To know more connect with us at info@b2cinfosolutions.com.