What is IoMT and how it can be beneficial for your business?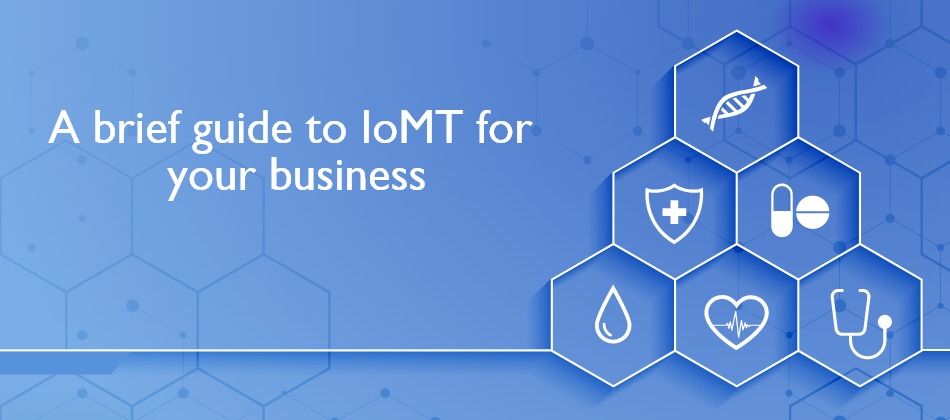 A brief guide to IoMT for your business
IoMT is the Internet of Medical things a connected environment consisting of several software applications for the healthcare domain. We have crafted so many blogs IoT for several domains but we are going to talk about healthcare IoMT. Such an ecosystem of IoMT connected devices and sensors have helped to improve the clinical work improvements and enhance patient care as well.
The practice of making use of IoMT devices in order to take care of patients remotely is termed telemedicine. This kind of arrangement saves the effort of patients from visiting the doctor's clinic for any medical attention.
What does IoMT include?
In layman terms, IoMT is basically bringing together new and advanced technologies that include artificial intelligence, sensors, and IoT connectivity. So for your understanding let's take a look at all these elements in detail.
Artificial Intelligence
In the case of IoMT, artificial plays a very important role, the ability to process data has never been so easy. AI is helping patients to get rid of long queues and they can easily get their appointment quickly.
AI Software can easily go through huge numbers gathered from IoMT devices, it sorts them so smoothly and the only relevant ones are passed to the medical professionals. The market of IoMT will go higher in the coming future and doctors will rely more on the evolving technology.
IoT Connectivity
Analyzing different health factors of the patients is one of the key roles of IoMT. To make the most of data, these need to be connected with personal computers and people as well.
In order to get IoMT data from one point to another, the manufacturers follow a huge range of communication protocols. All of the efforts work towards achieving a single goal which is to get this data of IoMT on the internet. Once the data gets easily gets available then the right person can easily access it using a computer and proper healthcare service can be easily provided.
Medical sensors
It has become possible for all the IoMT manufacturers to come with more and more connected healthcare devices and that too which are budget-friendly. The majority of IoMT products in the market comprises biosensors and its revenue is expected to reach beyond $29 billion by the end of 2024. To know the characteristics of tissue, organs, and other major body parts, these devices depend on the sensor and biological material. And the sensors which are not biological can be used to measure the electricity in the heart, body movement, and temperature.
Different types of IOMT devices that you can prefer
IoMT devices consist of several categories and these are:
Clinical Grade Wearables
These devices are generally used on the basis of physicians and they are approved and certified to be used by the regulatory authority. These are not designed for lifestyle purposes but especially crafted for home or clinical improvements in case of specific and health ailments. To get approval or certification from FDA, these are required to pass several tests.
Fitness Wearables
These are technology devices that come with in-build sensors and are capable of collecting relevant data of your physical activities. These trackers come in the form of smartwatches, wrist bands and each one of them comes with advanced sensors which have the ability to collect the sensitive information of all the users. Apart from collecting data, such fitness wearables use AI Algorithms to collect data that can deliver advanced healthcare services.
Remote Monitoring devices
Hospitals can easily carry out the monitoring of patients once they leave the premises and this is possible in case of both acute and chronic diseases by using sensor-enabled devices.
The healthcare professionals can offer better patient care, prevents readmission and speed up the recovery rate and moreover, improve patient outcomes if they can observe the discharged patients continuously. The use of such devices helps doctors to keep a track of disease progression and the recovery rate as well. They will also be able to make virtual visits to the patients.
Point of Care Devices
These are placed within hospitals to bring patients closer to the healthcare system. Such POC devices help in better access to monitoring and diagnostic solutions that can lead to decreased treatment expenses and much better results. People who live far away can have better access to diagnosis and treatment with the proper use of kiosks and point of care devices in remote locations.
Perks of IoMT in healthcare
The emerging technology offer bundle of benefits for healthcare professionals and patients, here some of them are listed by our team of experts.
Accessibility- One of the crucial benefits of medical devices that comes into the umbrella of IoMT is that it enables doctors to access the data of patients in a real and quick time period. In this way, doctors can easily take out some time from their busy schedules to check the patient without inquiring about any visit to the hospital.
Enhances Efficiency- Enhancing the efficiency by saving the cost is one of the major benefits of IoMT and this will surely not end here. One of the key issues that patients face in accessing medical care. But IoMT has increased the efficiency and reduced the time for doctors to diagnose and treat the patients.
Quicker Implementation and Lower Cost- IoMT devices are easy to implement and budget-friendly too. Operational efficiency will see the progress and will let you have faster access to the data of patients. And around 300 billion of savings can be witnessed revealed a new report by Goldman Sachs.
Ending up
As more and more technology-enabled devices are introduced in the healthcare sector, we can say the future is very bright. But there need to be strict norms for data to widespread of the apps across the world.
To know more about IoT or IoMT connect with our experts at info@b2cinfosolutions.com.