Perfect roadmap to build an E-Commerce App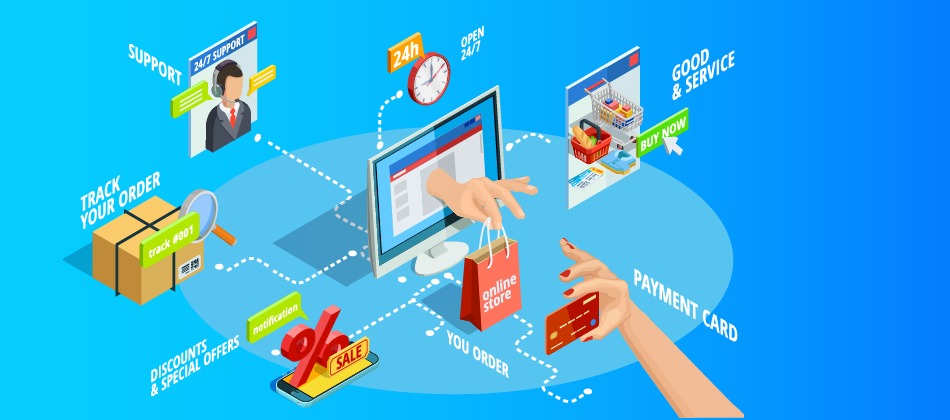 Everything you need to know before building an E-commerce App ahead 2021
The shopping modules over the last decade or have completely changed All credit goes to Social Media platforms and Scalable mobile apps. People can buy and get their desired things delivered at their own convenience.
E-commerce websites are now replaced by e-commerce apps indeed the Top e-commerce app development Company has made everything so easy for the users as well as vendors. Amazon the biggest e-commerce marketplace amidst this pandemic has become a great help for the customers. Who wants to spend time standing in long queues at the billing when they can get all their favorite items at their doorsteps. So a highly efficient and feature-loaded e-commerce app is a game-changer in so many different ways.
E-commerce App for you
Every business wants their shop or website to be crowded with customers all time. The app solution from the leading development team can help in converting all dreams into reality as you can target products from across the globe and you don't have to travel anywhere that's an added advantage.
And with the changing trends, every e-commerce startup is thinking to develop a website or application to increase customer reach and engagement.
So let's cut to the chase if you are looking for a full-fledged blog that provides a complete guide for e-commerce app development then you have landed on the right page. Let us tell you that developing an e-commerce app is now not that difficult with the latest technologies and marketing strategies you can outshine your competitors and provide an impeccable user experience.
And the future of e-commerce that involves AR and VR are decked up to renovate the sector with never before witnessed features like a virtual changing room. This clearly proves that the future e-commerce app development is way too bright and if you are someone who is confused over developing an app for business then this is the time when you can take advantage of the opportunity and meet the rising demands of the customers.
To proceed further, it is important to define your e-commerce business goals with clarity. You must have answers to the questions like what type of e-commerce app you are planning to develop on iOS or Android. What is your product going to be? Who would the targeted audience? Which are targeted brands?
Once this is defined then the next step is to move ahead with the important features to be included in the e-commerce app. These largely affect revenue and customer engagement.
Features are the USP of your business idea and this going to make a difference for your e-commerce app. Here is a list of features extracted by technical experts to be incorporated into an e-commerce app. You should not miss any of these.
Simple Registration Process
As the name suggests the registration process should be easy and convenient no one has got so much time that they have to enter information all time. With everybody having social media accounts they log in with just two clicks and the customer is on-board.
Supports Multiple Payment Options
For an instance imagine you have a lazy customer who does not want to visit any store and just opens your app and adds all of the product to the cart then he realizes he doesn't have enough payment options then you might lose him. Any more if your app doesn't offer the desired payment options of the customers.
To increase customer engagements an e-commerce businessman should focus on providing multiple payment options mainly debit card, credit card, e-wallet COD (Cash on Delivery) as well.
Push Up notification
You have all the necessary things and the customer wants them too so how you can fill the between both. Well, Push-up Notification is the perfect tool. This is the best tool as it gives customers an idea of what you are up to? What are the latest offers, discounts that they can avail.
Social Media Integration
With the changing trends, social media integration should on the top of the features list. As an eCommerce business owner, you can easily share special discounts and it can go viral if shared by multiple persons. You can chat with your customers on Facebook, Twitter, or pin on Pinterest. This will increase customer engagement and visibility.
Google Analytics
Let's say your e-commerce app is there on Playstore or app store so how can you check how you are performing. By that, we mean what is going in favor of or against the business. Google Analytics is here to help you out, with this you can get real-time data on how customers are reacting to your mobile application and which are more appealing combos, and which demography is in favor of your business. This all can be smoothly done by Google Analytics.
Review and Rating
Don't feel embarrassed if you get bad reviews since it will help to make your business model more effective. A successful businessman is one who is open to criticism as well as appreciation.
Provide your customers with an option to review your app and services. Once you have worked on the drawbacks do not delete the negative comments rather than thank them and show them what steps you have taken. This would make them feel important and they would visit you again.
Things to take care of while developing an e-commerce app
Here are some things that you should take care of while developing an e-commerce app
Target Hardware- You would like to focus on quite one platform as a developer that ought to web additionally to tablets and smartphones. The way smartphone users interact with an app is way unique from the way they interact with apps on their tablets. Smartphone users prefer quick information. Enterprise mobile applications are more likely to be used on tablets and it can easily accommodate quite their smartphone counterpart can.
UI/UX Considerations- UIUX plays a really key role when it involves e-commerce app development. This is mainly important as you would be able to retain your customers if you were able to provide a smooth customer experience So as a developer you want to make sure that the app's design isn't that complex and users need to fill in all the important information while registering.
API Components- Because the name indicates API Application Programming Interface may be a tool that executes a selected task or interaction with the software or a specific module. Social media apps and advertisers believe API to pass knowledge during a continuous flow. Additionally thereto APIs from suppliers and vendors are required and just confine mind that not all the APIs are hospitable third-party integration.
Data Security- Now with the changing trends, lately app developers often avoid storing app data for security reasons. If the clinical management system your app connects to a limited number of API requests thus you've got to store the info on a server. Apps servers are built for speed, not security, and thus aren't difficult to breach into.
Proper testing of e-commerce apps- Testing of any mobile app is imperative. However, when it involves healthcare mobility solutions releasing the app without proper testing would be very risky.
Factors affecting the cost of an e-commerce app
App Platform (Android, iOS, or windows)- Though android apps are quite cheaper at the app store than iOS apps, surprisingly e-commerce development cost for Android is relatively higher as it largely depends on several factors and android apps require to be tested against more devices compared to iOS.
App Design: Good design is a very important factor in the success of an app like Flipkart and this would help to increase digital visibility and customer engagement. This requires the use of advanced technologies.
Professional developers- The cost of the app largely depends on the geographic location, experience, and expertise level. However, the most preferred locations are Noida, Bangalore as there are many leading app development companies that deliver the best possible results within the assigned time period.
Payment Gateway- Integrating a payment gateway to the mobile app provides a next-level customer experience and it is a bit time-consuming process. The estimated cost to develop an e-commerce app from professional developers would be somewhere between 5,000 dollars to 20,000 dollars.
Wrapping up
Always keep in mind your e-commerce business goal even before you hire the development team for designing and development. Get familiar with your requirements and targeted audience or what issue that customers are right now facing will be solved by your e-commerce business.
Seek the expertise of the best and talented developers and designers to upgrade your business version by connecting with us at info@b2cinfosolutions.com